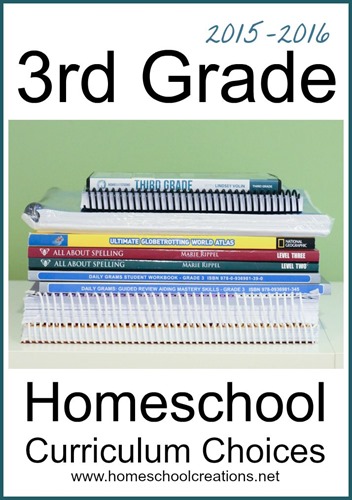 Kaleb is one of our most dedicated learners (i.e. not one to complain about his work other than possibly reading). He is typically working on school work before it's even time to start the day and it isn't uncommon to find out that he's finished his math and handwriting – always a nice start to the day! He is also the boy that wants to do as much as he can 1:1 with me, so this year we are pushing him a little bit in working on math via the computer (last year we used Teaching Textbooks, but I did all the lectures with him because he said the computer was too hard – it wasn't, he just wanted to be with me more).
On the other hand – he is my baby and I want to enjoy every last minute of this 1:1 time that we have together (shhhh – don't tell him).
3rd Grade Homeschool Curriculum Choices
Here's a look at the overall plan for our 3rd grade year…
Kaleb will be going solo with me this year on Nancy Larson Science. The FIRST day of school he was already asking to do that and art (we phase in our subjects, so we are waiting until this week). He is also watching Zachary create from afar, so he'll have a chance soon to work with Little Bits as a 'bonus time' at the end of each day for him for some STEM work.
Overall, he has been so excited to start this school year – and I honestly am too with him!
Co-op Learning
Kaleb is still in the younger age group of one of our co-ops and this year they will have two classes together: Spanish and Five in a Row. We have loved the books from Five in a Row and each week we meet will focus on one book and work on several go-along activities for the story.
Curriculum in Year's Past
In case you are interested in seeing the curriculum that brought us to this point, here's a peek at what we've used with Kaleb the past few years:
See What the Other Kids Are Up To…
Take a peek at our 5th grade, 7th grade, and 9th grade curriculum choices for the year as well! Click on one of the images above to look over their curriculum piles.