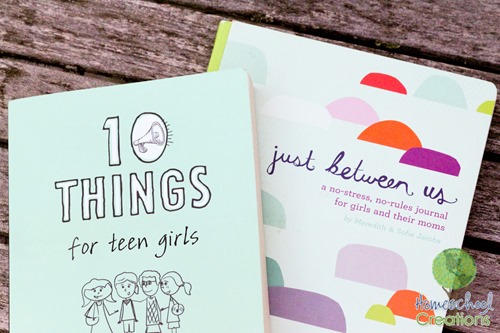 Our girls are growing up. Realizing that in a few short years our oldest will be out of the house is nothing if not a wee bit scary. While I realize our relationship extends far beyond the time our children are in our house, one thing I want to ensure is that we are talking and being intentional with the moments we have right now.
Sometimes (read, often) I am a huge failure in this area. Yes, we homeschool and are home a LOT with our kids, but being in the same room doesn't mean that we are connected. Quite frequently it can be completely opposite that. In the midst of being a parent, there are times that can be hard. Moments that instead of building up my girls, words are said that hurt and are immediately regretted. Hormones are running rampant, and trust me, that's not an excuse, because it comes from both sides – child and adult.
I'm not a perfect parent by any stretch of the imagination. At all.
My heart is to connect with these two growing young women in our care. To laugh. Cry. Hold them in the midst of their hurts. Know who they are at the very core of their being. That means being intentional in the moments our days together in every little way that I can.
Recently I read Enough: 10 Things We Should Tell Teenage Girls by Kate Conner which led me to pick up the companion book, 10 Things for Teen Girls, for both of my girls to read. It covers the main issues that girls today face and has been a great jumping off point. So far one of our girls has read it and then immediately put it in the hand of her sister.
In turn I've pulled out something else to use with our girls. Face to face conversations are necessary, but sometimes hearts can be spilled in the pages of a journal. Since I'm not the greatest (just being honest) at coming up with deep thought questions, this journal will be making the rounds in our house, a separate one for each girl and me to share together. Yes, it's a little silly at times, but we need those times too.
Date nights/mornings between the kids and the parents are coming back into play too – it's been far too long since we were intentional about it, and it made such a difference when we did. Sharing an ice cream or a basket of fries is something simple, but a great way to be together in the little things.
Every little thing is a part of the process toward growing together, which I desperately want. It may not always be easy, but it is ever so important.
Do you have special things you do to connect with your kids more intentionally? Please share in the comments below – I'm sure we all could use some ideas for our families as well.