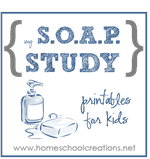 This post is a part of my 10 Day of Teaching God's Word series.
About two years ago, Mom's Toolbox introduced me to the SOAP method for studying Bible verses. S.O.A.P. is a way to help you stop and reflect on a verse or Bible passage that you are reading.
It's really such a simple tool and one that is great for children to use as well!
What does S.O.A.P. stand for?
Scripture ~ Write the verse that is the focus.

Observation ~ Write down 1-2 observations from that Scripture passage. What do you hear God saying to you?

Application ~ How does the passage apply to you right now in your daily life?

Prayer ~ Write a prayer based on the passage.
I put together a SOAP printable for our girls to use when studying verses. There are two sheets to a page, along with the S.O.A.P. acronym in case kids need a little reminder for the sections.
And really, adults can use them too! I just know that our kids like the helps and had to make it cute. Feel free to download a copy of the SOAP Printables for Studying Verses and share with your friends.
Other Posts in the 10 Days of Teaching God's Word Series
The 10 Days Series is organized by iHomeschool Network, a collaboration of outstanding homeschool bloggers who connect with each other and with family-friendly companies in mutually beneficial projects. Visit us on Facebook, Pinterest, and Twitter. And of course, click the image below to visit all the 10 Days posts from these homeschool moms of the iHomeschool Network. You'll be blessed with tips on how to handle bad days, cultivating curiosity, teaching with Legos, and much much more!
Don't Miss Out!! Email subscribers of Homeschool Creations are entered to win a $25 gift certificate to Amazon each month. Subscribe by email now!
Visit these great companies!
Share and Enjoy