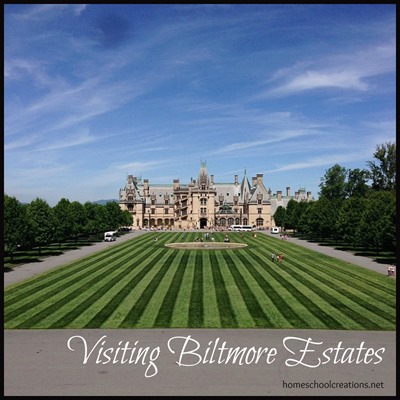 This past weekend we took a trip with some extended family to Asheville, NC to see the Biltmore (as in – we have family visiting from the Netherlands!). We were also there to say goodbye to some dear friends who are moving to Texas, but tried to make it a bit educational as well!
That's what we're supposed to do, right?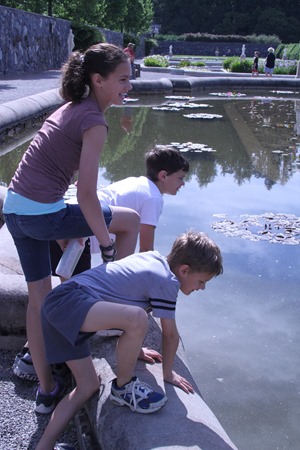 I'm relieved to tell you all that we didn't break one item in any of the gift stores and no alarms were set off during the entire house tour. Can I tell you a few things we really enjoyed?
Kids are FREE. Originally I purchased a yearly pass to the Biltmore so that the kids would be free when we visited, but for the summer of 2014 (starting May 23rd through Labor Day, kids are free)

The tour of the house is so much fun – but no pictures allowed. That part kind of stinks, but you would really miss some of the little details if your face was always behind the camera.

The audio tours for kids ROCK! Granted we only got one and there may have been a wee bit of fighting over that precious hand-held device, but a few of the kids were loving the trivia bites they provided.

The beautiful gardens and ponds = fabulous for kids to move and explore. We found tadpoles, heard various birds, explored the gardens and flowers, and more.

The farm was equally as fun! Chickens, horses, goats…just an added little bonus if you have kids that love animals.

Grape stomping – some squishy fun for sure.
If you're interested, you can also print off some educational helps when planning your trip. We didn't this time, but might in the future!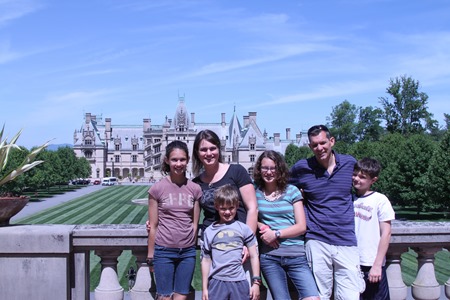 There was so much to talk about during our two-day visit. After having visited last Christmas, the Biltmore has been one of those places that I've wanted to return to visit, and I'm sure we'll be back again. Truthfully, the adults want to take another visit back in the fall (ALL ALONE) and just soak in the beauty and quiet (grins).
What is one historical place you've visited and loved?
This post was in no way sponsored by Biltmore Estates. We paid for our own tickets (including my yearly membership and two additional adult tickets).