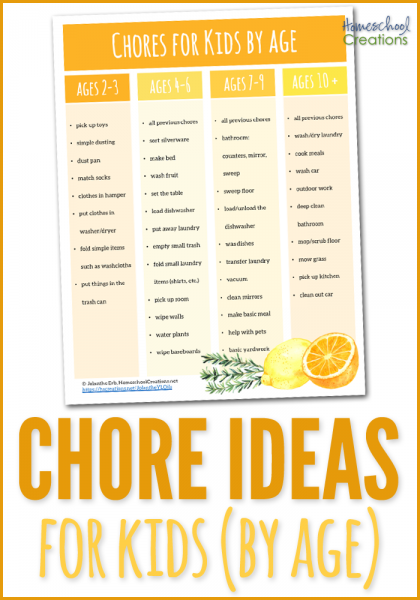 Around our house, getting things clean (and keeping it that way) requires a team effort. Granted, there are times when one team player puts in a bit more effort than the others, but from a young age we've asked our kids to help out and pitch in when they can.
For the most part they do it willing (grins). I didn't say they were perfect.
(Far from that.)
Figuring out what chores the kids can help with – and what actually is age appropriate – is another area.
Recently I pulled together a list of chore ideas for kdis and divided them out by age groups to share with some ladies. Granted it isn't an exhaustive list, but it's a great jumping off point for families to review and then implement.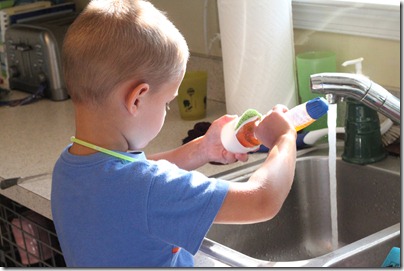 When our kids were younger they enjoyed helping out with simple tasks and we would create a game of it: matching socks, putting things away, playing in the sink water and helping wash dishes.
Remember that kids mature at different ages, and these ideas – well, it's not meant for kids to do the entire list every single day. You might have mutiny on your hands. Adjust the list accordingly to your kids maturity and ability levels.
A few key things about working on chores with kids:
Start them young. There are very simple things kids can do to help around the house that help them feel included. From placing forks to matching socks, there are small things younger kids can do to start the process.
It won't be perfect. Kids don't always have the same "clean" level as we do and taking them through the step-by-step process a few times can help tremendously until they are able to do them independently. Don't expect perfection (unless you want to do it yourself).
Be specific. Along with taking them through process, be sure your kids understand what you want done. Don't just tell your kids to clean an area – give them the specific things you'd like to see done: shoes put away, floor vacuumed, etc… (Note: they can't read your mind).
Use a chore chart. There are many chore charts available (here is a chore chart for preschoolers and chore charts for older children). Find a system that works for your family.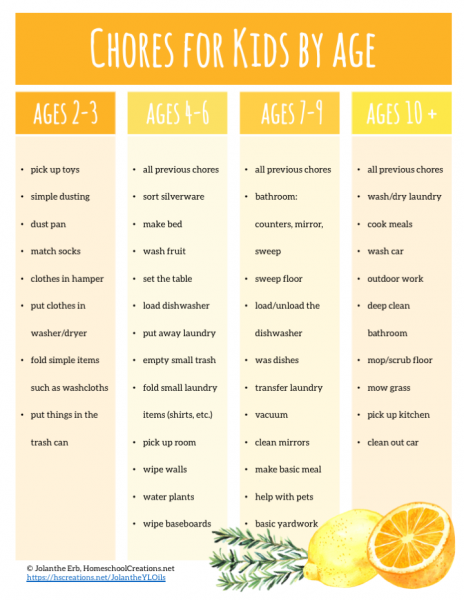 If anything, let these chore ideas for list be a jumping off point for you to get things moving in your house! Happy cleaning!