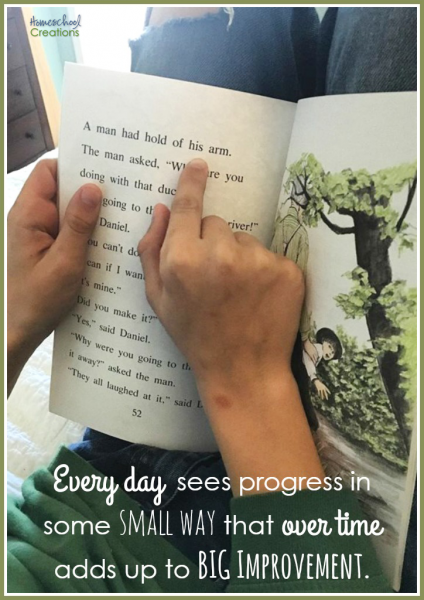 The past few years have been exhausting at times. As much as I try to remind myself every child learns at his own pace, there is always a part of me that has felt like I've somehow missed the mark. Not done enough. Am failing as a mom and teacher.
Mentally I set goals and even wrote a few general ones down at the beginning of the year for Kaleb's reading, but day to day it was hard to see progress being made. And it was frustrating (for both myself and him) very often.
"Daniel's Duck" was one book on Kaleb's list to read this year, and this past week he read a large chunk of the book with little pause. A page with this much text would have completely overwhelmed him only a few short months ago. He has taken huge leaps in the last bit and I am so thankful to be a daily part of it (even when there are days that have me wondering if I am failing my child).
Every day sees progress in some small way that over time adds up to improvement. It's hard to see at times, especially when we are a part of the small steps leading up to those larger strides. Yes, it requires perserverance and sticking through those (maybe many) rough days, but progress is being made.
Can I encourage you in this, if nothing else, today? Bit by bit, step by step. When it's overwhelming, when you are tired, and when you are uncertain – the things you are pouring into your child's life and heart are taking root and growing. Be faithful – and encouraged, parents. You ARE making a difference in your child's life.
*If you'd like to see our reading list, feel free to have a peek here. We very highly recommend All About Reading as well.