It's been a cold week. Again.
We started out the week with snow. Granted a wee dusting, but somehow the kids seem to think that means we should get the day off. Although the local schools did, we didn't. Call me the mean ol' mom. (Sidenote: I did invite some kiddos over for everyone to play with afternoon – I can be nice too).
And the lack of pictures this week? Well, I'm trying to be more PRESENT. No phone in the schoolroom. Just us and focused. It's been good, but few pictures to prove we've done anything (so does it count then?). (The answer is yes.)
Reading with Kaleb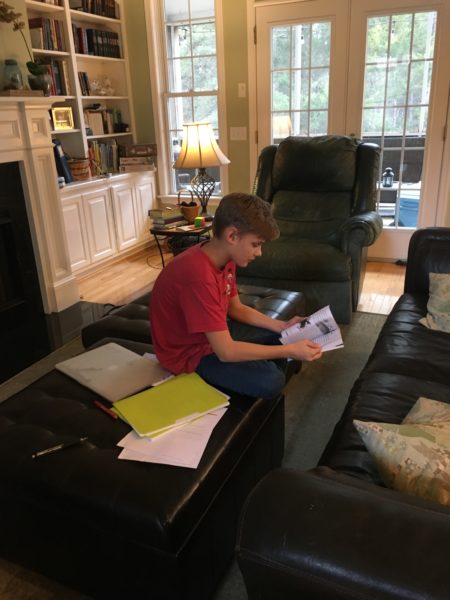 One highlight of the week for me – catching Kaleb as he picks up a book to look through it. He may not have sat down and curled up to read, but this is definitely a move in the right direction for our reluctant reader. Last week I borrowed a few books from a friend (in the Who Was series) to use in our daily reading time together. We started out with Who Was Martin Luther King, Jr.? Part of me is hoping that biographies will be more to his liking. While searching online to see what other books were available, I found one about the Superbowl. The boy loves his football, so that's next up to read when we finish this first book.
My heart is that this boy will find a passion for some subject and it will truly ignite a love for reading in him.
Volunteering
Thursday was our chance to volunteer at a local soup kitchen. Our church helps serve once a month and it's one of the community programs that kids under 18 are allowed to participate in. It isn't always huge stuff – we set tables, cook and serve a meal, help clean up, talk to people, and are just present. No, the kids aren't always thrilled to go, but it's one way to help the kids understand the value of giving their time and serving others.
Loop Scheduling
Something that I tried to do this week was get back into a routine, or loop, with some of our smaller subjects: geography, art, STEM activities, and Bible. There are some subjects that we tackle every day: math, grammar, writing (Zachary), reading, history, read-alouds, handwriting (Kaleb), and science.
But there are a few subjects that we put in a loop, meaning we cycle through them: geography, art, spelling, vocabulary, and Bible. Each day we choose one (or two) of those subjects to add into our day. There was a point where I scheduled them into our week on specific days, but that ended up getting me very frustrated because a day's schedule would shift because of a doctor's appointment or co-op – or something else. I'd start feeling behind, that would throw me out of whack, and mental chaos would ensue.
So essentially, I'm trying to keep myself mentally stable. (ahem)
What Mom is Up To…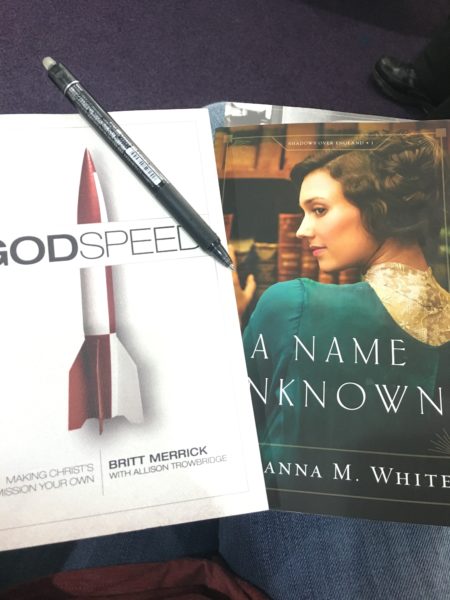 I shared my 2018 reading list earlier this week and am MUCH enjoying two of the books on it. One of them I wrapped up yesterday, and Godspeed by Britt Merrick – well, that's giving me quite a bit of food for thought.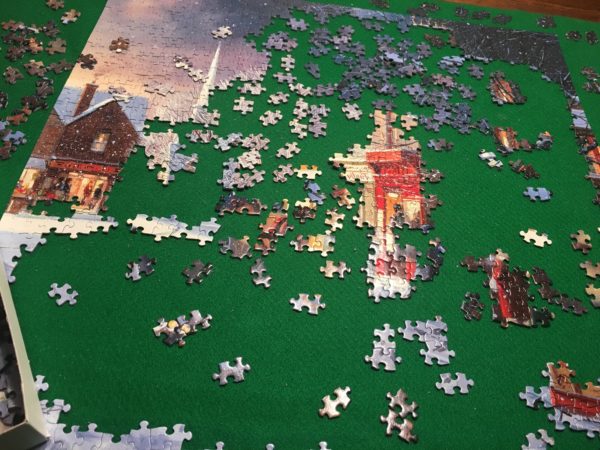 We also have another puzzle in progress. With the kids busy with swim practice each night, we haven't had as much of a chance to work on it, but every now and then we sit down for a bit and try to sort through pieces. Snow looks pretty until you have what feels like 1,000 bluish pieces and your eyes are crossing.
That's all for our week back to school. How are you all doing – and what have you been up to?