There are so many times when we get 'stuck' in the 'What are we going to use?' rut for homeschool curriculum. Choices abound and can be overwhelming!
Next week I'll be sharing what our family will be using for the 2014-2015 school year (you can see our choices from last year here), but here are five tips for helping you make homeschool curriculum choices (and they are things that I have to remember every year!).
1. Your homeschool doesn't need to look like another family's school.
Just because your best friend is using something and has her school time set up in a specific way doesn't mean that yours needs to mirror everything just so. You and your family are unique! (And that is a good thing).
The opportunity to homeschool our kids is a blessing and it can be so tempting to try to be just like another family and put expectations on ourselves and our kids that really aren't appropriate. Please remember that your family may have different priorities, you may be in a different season of life (young kids vs. older children), and you may be facing different parenting challenges.
Your quickest way to burnout and making some bad decisions is comparing yourself or your kids to others. Focus on what is important – your family and what is best for them! (Trust me on this!)
2. Consider what you as a parent need, just as much as you consider what you are getting for your children!
While it is important to consider your child's learning style and your teaching style, sometimes you may be in a season of life where you need all the help you can get! Maybe that means looking at a curriculum that requires little planning on your part. It's okay to consider something that will make life easier for you!! There have been times in our family life that life was crazy (lack of sleep, a move, etc…) – take it all into consideration before making your final choices!
3. Don't be afraid to ask questions before you buy!
Whether it be asking another homeschool mom, searching blog reviews, getting a hands-on look at what you are considering at a homeschool convention, or calling and talking to a company in person. Keep in mind that what works for one family may not work for yours, but you can do research before you make a commitment.
It's also great to know the guarantee policy of a company as well. There are several companies (such as All About Learning Press) that offer a one year money back guarantee – that can be a great help when you are looking to buy!
4. Stick to your budget.
I know – not a fun word, but keep in mind that just because something is expensive, doesn't mean that it's the best (or only) thing that will work. You may be able to find the same curriculum used, borrow it from a friend or the library, or find an alternative to that piece you have your eye on.
It is SO easy to get carried away (trust me, I know). Put together a rough idea of what you need, set some $$ limits and see what you can do. If you have a limited budget, be sure to read How to Homeschool on a Limited Budget for some great tips!
5. Ask your kids what they would like. 
Maybe it's just my kids, but they seem to have opinions on what they like and don't like. Granted, they can't do whatever they would like all the time, but some of our best times together have been focused on topics that were interesting to them.
With our oldest embarking on her high school journey, we sat down together and looked at programs that she would enjoy too. We talked about things that she wanted to be involved in, compared programs together, and looked at what has (and hasn't) worked in years past. Sometimes we've been able to incorporate what they wanted into our plans, and other times we've had good discussions on how we can adapt something we're using. Including older kids in the process is so important – especially as they become more independent in their learning.
Other Helps for Choosing Homeschool Curriculum
Looking for some additional helps in choosing homeschool curriculum? These posts may offer some additional tips for you:
What one tip would you offer other families when choosing curriculum pieces? Leave a comment below and chime in with your thoughts.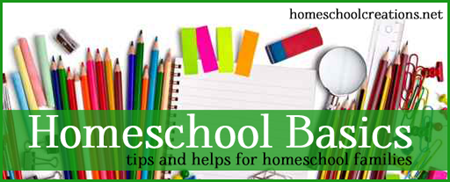 This post is a part of the Homeschool Basics series. Be sure to read the other posts if you are just joining in. For the record, I am not an expert. I'm a homeschool mom who is sharing what she's learned so far along the way with her own family.