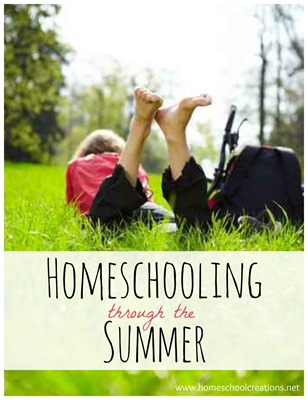 Summer school isn't something that we typically go around advertising to the kids. Quite truthfully, it is fairly informal, low-key, and just enough to keep up with the basics so little brains don't go wandering off and require a lot of reminders at the beginning of the next school year.
Our typical school year is a six weeks on and one week off rotation which does allow for a bigger block of vacation time in the summer and around holidays, but there are some benefits to continuing learning time during the hot, summer months. Yes, we do relax and enjoy the summer, but we also try to keep a bit of a routine going in our home too.
Subjects and Things We'll Do
This summer we'll be focusing on a few of the basics and then if some other fun interest-based learning (the beach will likely bring up some interesting critters to study).
Reading – a few of our kids could use continued reading practice, and we'll also be finishing up some read-alouds together.

Math – aside from a lesson or two a week, we're taking some time to review and work on math facts together via a few fun games and manipulatives.

Science – we'll focus on all the fun learning that surrounds us.

Field trips

PE – there is going to be a LOT of swimming. Swim team starts up in just one short week and that involves a whole lot of practice, practice, practice! (wink)

Rest – it may seem that we'll be busy, but we do fully intend to relax and have fun too.
When We'll Work
Our afternoons tend to be the time we relax and enjoy the side of the pool, so our morning routine will remain similar to how it is currently set up – just a little more relaxed. Breakfast, chores, and then a bit of school – that will be the basic setup.
The idea is to keep it simple and fun. Front porch swings can be a great place to keep the learning going!
Advantages to Summer Homeschooling
Even if you only do one or two subjects over the summer months, there are a few advantages for your family:
Less review time when the official school year starts. You know those worksheets at the start of many books that just seem like repetition from the prior year? Yep – they are. Keeping the learning cycle going during the summer months can cut back on many of those 'repeat' lessons and let you get to the new concepts faster.

It's easier to get back into the normal school routine and schedule. Just working on one or two things a day can keep the learning routine going in your mind and in your child's, making it easier to ease back into the new school year routine.

There are TONS of great things to do in the summer. Ok, technically there are lots of great things to do all year round, but the summer time definitely offers a few things like summer reading programs, field trip options that may have been unavailable during the summer months, educational classes at a local children's center or museum, etc. The opportunities for summer hikes and walks abound – really, so much to do!

It's a great time to try out new programs without changing everything. Maybe you have a different approach you'd like to try for reading, but it didn't mesh with what you've been doing during the school year. It's a great time to try out some new things in an informal way.
Will you be schooling through the summer?

What does your family have planned?