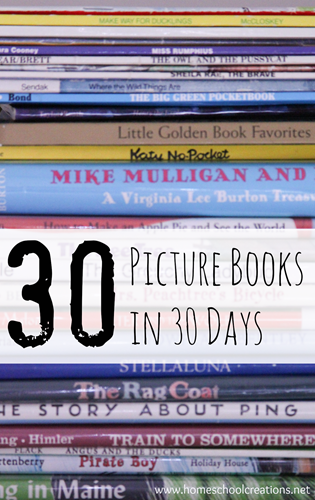 There are days when I feel that one of our kiddos is getting the proverbial short end of the stick. While our older kids had more of my time and energy, the youngest – well, there are occasions that it just seems that he gets the leftovers.
And then I start beating myself up that I am not doing enough for him.
BUT, there are also times that I am a wee bit justified in these feelings. Reading pictures books with him is one of those areas. There are so many amazing books that we have in our home and while some of the copies are ragged and worn from being read over and over with our oldest, Kaleb hasn't had that same reading time.
Don't get me wrong – we read a lot as a family, but many of those books are not targeted specifically to his age range. While he enjoys the other read aloud, there really is something special about flipping through a picture book, talking about the pictures and the story, and enjoying that time together as well.
"In your eagerness over discovering children's literature, you need to be careful not to push your children into books beyond their years. It could mean missing those books tailored for their present age."

– Gladys Hunt
In an effort to be more intentional in this one specific area, I set the goal to read 30 books in 30 days with Kaleb. There are more than thirty books in the stack, but at least one book a day is that I picked out for him, and then he chooses another book from our shelves. The hope was also that we would re-read many of the books that he was exposed to during the month.
(and 30 isn't a difficult number to reach, is it?)
After only two days, he was climbing into bed with me in the morning carrying books and reminding me that we needed to have our reading time, and we've been snuggling up to read a few books together. It has been such a fun and wonderful time as we talk about books that I loved when I was little and also re-read other fun books, giggle at silly things, and just enjoy the time together.
Choosing the Books
There were several books that came immediately to mind – ones that our older kids loved and also a few that I enjoyed as a child. When my brain started fizzling out on book ideas, I pulled off the book Honey for a Child's Heart by Gladys Hunt where there is a great chapter on favorite picture books (if you need a jump start on ideas, there are tons of good ones here).
Other places to get book ideas:
Look around at your local library – it was fun going through the shelves and finding some old favorites of mine.

Check out the book lists from Five in a Row and other homeschool companies. See what books they are recommending to read.

Look up some of the Usborne books online – some of our more recent favorites have come from the beautiful picture books they offer (and many of their books are also available via Amazon too).

Ask friends – many of mine have a great library at home as well and they lent me some of their favorites.
We pulled books from our shelves, baskets, visited the library and finally borrowed a few from friends. Our book pile quickly grew!
What's in Our 30 Book Stack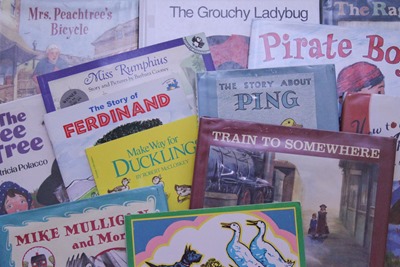 Over the next few weeks you may see me post pictures on Instagram and Facebook on the books that we're reading, but here's a look at the ones that I specifically have piled up for us to read together. There are a few more that I want to read, but either can't find our copy or haven't had the chance to borrow the book from a friend – so we're filling in with another book.
Mrs. Peachtree's Bicycle by Erica Silverman
Keep in mind this is hardly an exhaustive list of great picture books. There are so many more and after the thirty days is over, we'll be back at our library pulling more books off the shelf!
"Once you begin enjoying good children's literature, you will find yourself in a  treasure house of reading."
My one goal is to make special time for books, especially ones that my younger one will enjoy. This isn't a checklist to complete (although I do love a good checklist!) – it's just time spent cuddling, reading, and rediscovering some fun books – and introducing them to a boy who may not have read them with us before. And when the thirty days is done? Well, hopefully this will be just the tip of the iceberg in our picture book reading adventures!
What one picture book do YOU remember reading when you were a child?