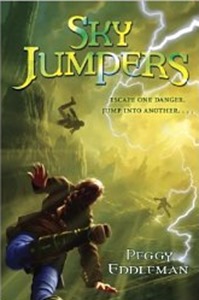 Summer vacation inevitably means time spent driving in the car.  While I love to actually read a book to the kids, there are times when an audio book is wonderful for helping squeeze in some reading time (and keeping the kiddos in the backseat a little quiet too – grins).
Sky Jumpers by Peggy Eddleman is the latest book that we found (no, it wasn't on our original 25 Books to Read Aloud together, but that's okay with me!)
Here's our quick take on the story…
Sky Jumpers follows the story 12 year old Hope after World War 3 has left the world desolate through the droppings of bombs that destroyed nearly everything, leaving a mysterious air called Bomb's Breath. One breath of this deadly air will kill a person. Towns are surrounded by this air, but Hope has discovered a way to dive into it and survive (although she shares this secret with only a few friends).

As the town struggles to survive, the inhabitants of the town all work on inventions that will help others in their daily lives. Big or small, each person is required to do their part. The only problem is, Hope really isn't good at inventing. All of her past attempts have been failures and success isn't looking like an option for her.

The town is attacked by bandits in search of a rare antibiotic, and Hope is faced with a choice of helping her town keep the medicine and escaping through the Bomb's Breath to get help from a nearby town or just handing over the medicine and allowing friends and fellow townspeople to die without the medicine.
Our kids are fairly picky when it comes to audio books and since they LOVED Sky Jumpers, I thought it would be great to share it with you! As soon as the book was done, they wanted to know if it was part of a series and when the next one would be available to read (and yay – Sky Jumpers: The Forbidden Flats will be available in September!!). Honestly, this was a book that I enjoyed as well and wanted to listen to whenever we had the chance. If the audio book is available, the narration is fabulous on it.
p.s. Be sure to visit Peggy Eddleman's website for some Sky Jumper extras too (fun!).
What book or books are you reading together right now?

Leave a comment and share a good read with us!
Books We've Previously Read Together
Here are a few other books that we've read together and blogged about. Click over to see our thoughts on them!