Do you have a word that defines your year? For the last several years I've had a word engraved on a charm – one word – that I've prayed over at the beginning of the year. One that would define that year to come.
Last year, I thought. I prayed. Wrote a few things down. But nothing stood out and felt right. If you know anything about my personality, that may have been a wee bit bothersome to me. I'm a girl who likes to get it done. Have it finished. Yesterday.
That may at times be detrimental to different areas of my life.
The year moved on and it wasn't until the end of December (the end of the year, people!!!!) when a friend was talking to me and asking some questions, that suddenly I knew exactly what my word was.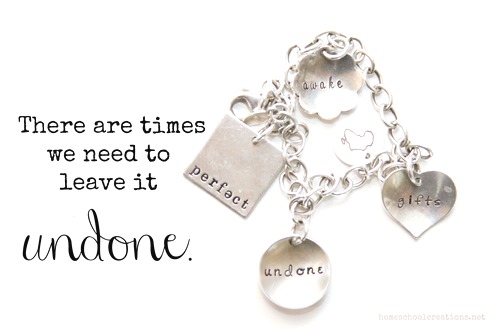 Undone.
While I share some things that go on in our lives, typically from a homeschool perspective, there are often many things going on behind the scenes that others don't get to see. It's not that I don't want to share, but sometimes can't – or don't want to bore others with all the silly details of life. Or sound like I'm whining. Because this is a homeschool blog and somewhere deep down inside of me, there's a little something that whispers, "If it's not about homeschooling, it isn't something you should really post."
I'm so getting over that! We are ALL more than just homeschoolers, and sometimes we need to know that another person is going through something similar. Maybe there is a little something that can be an encouragement to another person – and I am definitely okay with that!
I'll be truthful and tell you that last year was a bit rough on me in different ways. I was pushed out of my comfort zone in several areas. Spent time dealing with extended family issues. And worked through some things personally that needed focusing on – and still do.
Remember how I mentioned that I like things done? Yesterday. Right away. (My way). I'm a girl who like to get things checked off, finished, completed in a timely manner, yet last year there was so much that felt completely out of my control. Places I needed to just step back and let go.
And leave undone.
Can I tell you how hard that was for me? But can I also tell you how FREEING it was as well?
There are times when it is okay for things to be left undone. Often many of the things that we hold as a priority – well, they really aren't.
Every single one of us has stuff going on behind the scenes. Junk we're dealing with. This thing called homeschooling is just one of the many areas in our lives. We are moms (or dads), parents, spouses, teachers – the list goes on. We can't get it all done and don't have to either. Yes, it's easy to feel like we are missing the mark and have SO MUCH MORE we should be doing or need to do, whether it be in our homeschool time or any area of time.
There are times when we just need to let it go. Let it rest. Leave it undone. Because maybe, just maybe there is something else that can't be done, unless that 'thing' is left undone.
So my bracelet this year reminds me that my past year of 'undone' – I survived it. All that stuff that was piling up and just had to be finished, well, a bunch of it was unnecessary. The things that really needed to get done – they were.
And this year's word? Well, that one dropped into my heart immediately after the word undone.
Perfect – but with one of the letter e's upside down. Because it doesn't have to be perfect to be done either. (Oh…there's a whole other post there with thoughts I've been wrestling with).
So while I don't usually dig 'deep' and share stuff like this, I've really been feeling it was time to get a little more personal. Maybe you're walking through some similar feelings lately. (Hugs to you). Know that you aren't alone – and I'd love to pray for you too. Hang in there! Release yourself from all those expectations that are unnecessary and focus on what really needs to be done today – ok?