This year I have a series of goals set for myself: some personal, some family related, and a little bit of everything thrown in the mix. One of the things I shared with you all earlier was my reading list for 2014. There were thirteen books on the list, but wouldn't you know that new books keep popping up that catch my eye.
I should really know better than creating a list so early in the year with new books releasing, eh?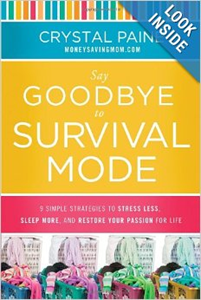 One of the books that I added to my pile was Say Goodbye to Survival Mode by Crystal Paine (author of MoneySavingMom.com). While I'm not feeling like I'm in the survival-mode boat, the book was a great reminder (and a bit of a shove) to get a few things in life back in gear. That's meant some conversations with my hubby (all good) and some more refined goal-setting.
Off my non-fiction list, I've managed to finish a few other books (One Thousand Gifts by Anne Voskamp and 10 Gifts of Wisdom by Sally Clarkson). There's one other book – completely not on the list, of course – and there are a few other books waiting in my Amazon cart. But I have to finish off the ones on my shelf first!
If you'd like a peek at the books that I'm reading (by myself and with the kids), check out my Books Read in 2014 Pinterest board. Reading has become such a relaxing time for me and the kids, and I love that! It's my winding down time at night and most nights I am literally nodding off holding a book.
What's the best book you've read so far this year?