If there's one thing we do a lot in our homeschool, it's print. So many of the curriculum components we purchase come with ebook downloads or workbooks to print. Add to that the various bundle sales that pop up and the digital files pile up quickly. While I don't mind printing them, often it can get tedious to remember what all I still need to print off.
My printer had already been getting quite the workout this year printing student planners, my homeschool planner, and a few various other items when one of my friends mentioned an online company she has been using and the prices were FABULOUS.
I shared a
live video on Facebook
where you can see more of the questions people asked and a little more detail, but I also put together
a quick video showing some of the things we had printed
and how much we saved.
Let's put it this way – it was a good chunk of change compared to having it printed at Staples or another copy center locally. Overall I had TEN items printed and with shipping it was a few dollars more than having just two of the items printed at Staples (and that was for two of the smaller workbooks, a total of 220 pages). In all, we had over 900 pages printed from The Homeschool Printing Company!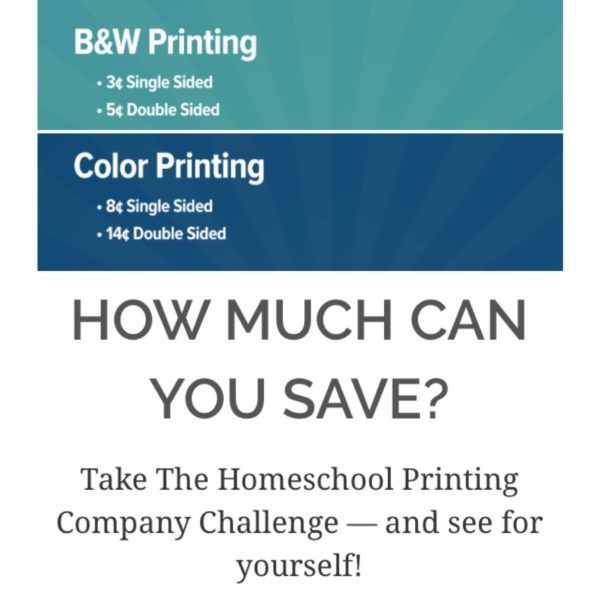 Here are a few of the services they offer:
Black and white or color printing (single-sided or double-sided)
Laminating
Spiral binding with protective covers
3 hole punching
various weights of paper
cardstock covers
10-12 day turnaround time
Yes, I could have spent a chunk of time printing it off myself, but quite honestly I'm looking at that being $50 very well spent (and both time and ink saving for me!). Take a peek at the video above and see the various services they offer! I promise you – it's a huge help!
Want to save 10% on your first order? Visit TheHomeschooPrintingCompany.com and let them know I referred you and they'll put the discount on your first order!