You all – you do NOT want to miss this amazing giveaway from Teaching Textbooks over the next week. It is being hosted on the Teaching Textbook Facebook page, so head over there to give them a "like" and enter.
We are huge fans of their math programs and I'm so excited that one of you will be able to enter a COMPLETE level of your choice – woohoo!! Click here to visit the giveaway page (note this is a little different than the Rafflecopter-style widget I have here, but you should be able to figure it out without a problem). There are multiple ways to enter, and if you have any questions you can message them directly on their page.
Want to see the goodies they are offering??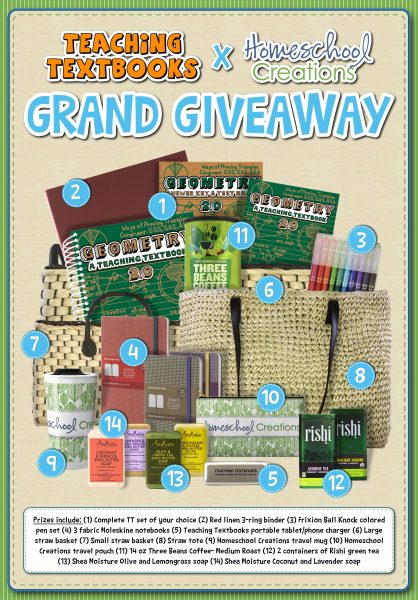 This giveaway will run from 5/8/17 until 5/12/17 at 3pm EDT. The above prizes will be divided out into TWO separate prize packs as follows and awarded via Facebook:
First prize package awarded on Wednesday, May 10th at 3pm EDT: Complete TT set of your choice, large straw basket, small straw basket, Homeschool Creations travel pouch, 2 containers of Rishi green tea, and Shea Moisture Coconut and Lavender soap.
Second prize package awarded on Friday, May 12th at 3pm EDT: Red linen 3-ring binder, Frixion Ball Knock colored pen set, 3 fabric Moleskine notebooks, Teaching Textbooks portable tablet/phone charger, Straw tote, Homeschool Creations travel mug, 14 oz Three Beans Coffee – Medium Roast, and Shea Moisture Olive and Lemongrass soap.
(If you have difficulty entering on Facebook, please email heidik@teachingtextbooks.com and put "contest" in the subject line. She will be glad to make sure you are properly entered.)
Ready – GO ENTER!!