April is usually the time to start squirreling away money and plan on some GREAT sales from many homeschool companies. As you get an idea of curriculum you'll need in the upcoming year, don't forget there are several bundle sales coming soon (so put some money aside!!) and the below sales to mark on your calendar!
Save up to 50% from Compass Classroom
From April 6-13, Compass Classroom is offering savings from 25% to 50% off their products. We've used their WordUp Vocabulary (30% off) and next year will also be using Economics for Everybody and Visual Latin with our girls (also both 30% off). They offer several different options, including monthly streaming subscriptions as well as physical products.
50% off Dave Raymond's Modernity
Their *NEW* course, Dave Raymond's Modernity is a full high school credit and on sale for 50% off from April 8-15, 2016. The course focuses on the period of Modernity and the maturity of Western civilization. Students will learn how to apply and refine a Christian worldview to major developments in philosophy, science, and government; personalities such as Newton, Bach, Napoleon, and Austen; and movements including the Enlightenment, Darwinism, Nationalism, and Victorianism.
Save 15% from Home Art Studio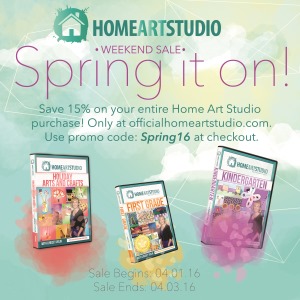 This is the first EVER sale that Home Art Studio has held!! We have loved their DVD lessons and used them with our three youngest – highly recommend!! Use the code Spring16 during checkout to save 15%.
FREE History Audio Downloads
There are THREE different radio dramatizations to download for free (not sure how long this will be avaiable).
Mr. President:

This interesting series only reveals the President at the end of each show.

You Are There:

Provides a glimpse into key moments in history through great drama.
Kiwi Crate – Buy 2, Get 1 Free!
Kiwi Crate is offering a third month free for any subscriptions over 3 months. We have used their crates in the past and had so much fun with them. With summer coming, these would be a fun activity for the hotter days (and require no planning for mom!).
That's it for now!! I'll be sure to share any additional freebies and sales on my Facebook page, so feel free to follow along there as well!