When readers email me sharing ways that they have adapted printables – well, I love it!! It's so wonderful to see them in action in other's homes and also to see the creativity in learning as well.
Here's a fun example that Sarah sent in. She printed off the addition page from the Angry Bird printables to use with her son, added in some unifix cubes and voila – some hands-on math fun!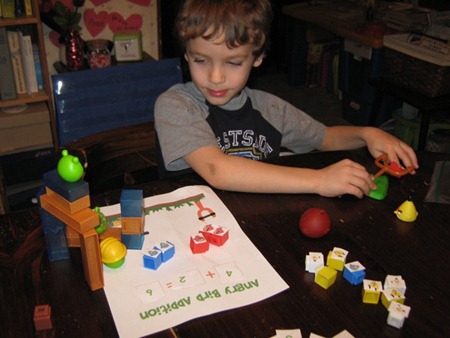 From Sarah:

I printed off the addition activity today and we had so much fun. I taped the birds onto unifix cubes of the same color and we used our Angry Birds game with the sling shot and pigs.

My son set the pigs up and got ready to attack. I gave him a problem… "Joey had two red birds and 4 blue birds to get the pigs… how many did he have all together." We built the problem and then he could use the blocks (birds) to shoot at the pigs. It was great motivation for him to complete his addition problems. Thanks so much!
Great idea, isn't it? You'd better believe that we'll be using it when we work on Angry Birds next week!