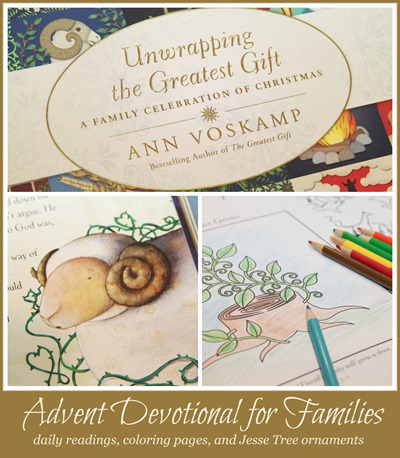 There are few holidays in our home that we really make a big deal about, mainly because we want the focus of them to point to the real reason we celebrate those days. More than anything, I hope our kids leave our home with a deep understanding of how the story of Jesus isn't just focused on one small chunk of the Bible – it is one that was hundreds of years and stories in the making! And the result of that incredible story is the incredible love of Jesus for them.
Whether it be by candlelight at night or circled around the school table in the morning,  celebrating Advent is a constant for our family in the weeks leading up to Christmas. Advent is a time of reflection and this year our family will be reading Unwrapping the Greatest Gift by Ann Voskamp to look more deeply at the family tree of Jesus.
In years past we always wait until after Thanksgiving to start with anything Christmas, but this family advent devotional is one that we're already reading together and using as our morning Bible time. And you all will love it too.
Peek Inside the Book

Unwrapping the Greatest Gift focuses on the Jesse Tree and is such a story of redemption (our redemption!). Even the family tree of Jesus had its share of heartache and brokenness – and yet, we are fully His and made perfect. Really, just thinking about that amazes me each and every time.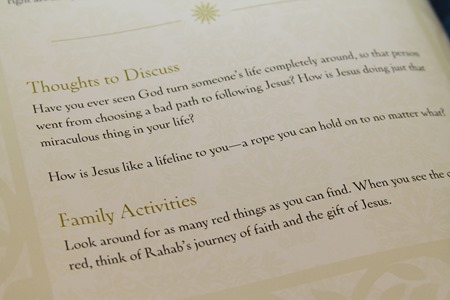 The 25 daily Advent readings, starting December 1st,  includes a Scripture passage for study, a devotional that is a perfect length (so kids stay focused), questions for discussion, and family activity suggestions.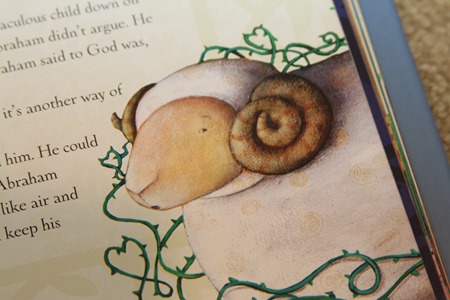 You all – this book is gorgeous. The artwork throughout brings so much to the book, and your kids will be drawn in to each devotional through Ann's amazing story telling ability.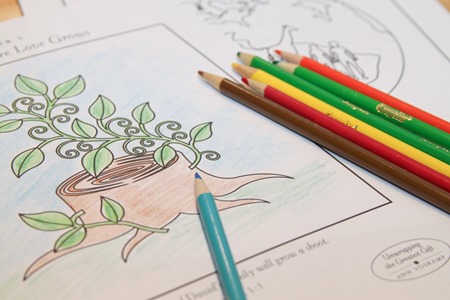 There are some fun, hands-on features for the book as well. We are setting up a small tree to hang our daily Jesse Tree ornaments. While we read the story for the day, the kids color one of the go-along coloring pages. Each colored stroke helps the themes sink in….
God is with us. Jesus is with us. Jesus stays with us. Always.
This is one Christmas experience your family will never forget — that they will be passing down from your Christmases to their Christmases — because this is the gift we all want.

Come Christmas day — your kids, and your Christmas tree with all 25 ornaments, will be telling the full love story of  Jesus' coming, right from the very beginning!

What better gift to give the whole family this Christmas  — than the wonder of the full love story of Jesus?
Resources for Unwrapping the Greatest Gift