Lately, being 'productive' has felt a bit out of my reach. Maybe it's me hanging desperately onto the last days of summer. It could be my reaction to all the crazy happenings over the last few months and just feeling the need to slow down.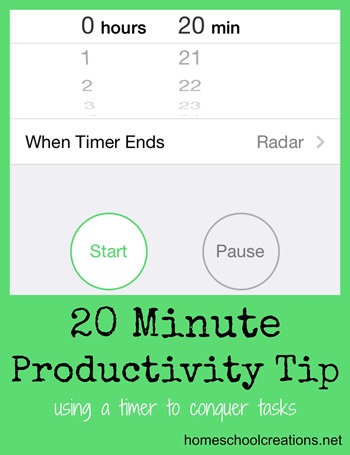 Whatever the reason, I've pulled something back into play the last two weeks to help give me a boost and put a dent in the seemingly mountain-sized pile of things that need to get done before we start back up to school.
A simple timer.
I pull up the timer on my iPod, set it for 20 minutes and go. For me that can mean limiting myself to 20 minutes of something (maybe a quick reading break of one of my books to read in 2014) or giving myself a set time to accomplish a specific task like the kitchen counters. It definitely isn't to play Candy Crush (cough).
And truly, you all – 20 minutes can put a HUGE dent in a task that needs to be finished. It seems like a small amount of time, but it can break up something huge and make it more manageable. Maybe it's tackling a larger project 20 minutes at a time. Or maybe that 20 minutes will be all it takes to get it DONE and off your list (and mind). The short time frame is also great for me to stay focused (I tend to be a bit ADD) – so I am able to focus on one task for a short time, and then switch to a different task when that time is up.
My 20 Minute Task for Today
Today I set two 20 minute tasks up for myself and quite honestly, they both took a big load off my shoulders when they were done! Want to see? Just to be nice (and honest), I'll keep the pictures BIG so you can see it in all it's messy glory.
Here are the before pictures…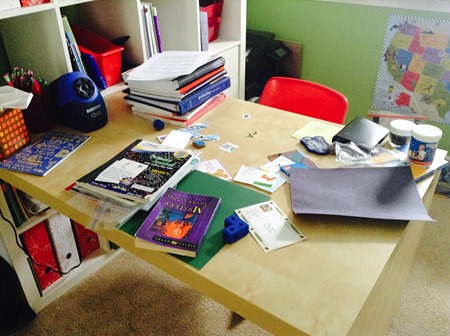 My desk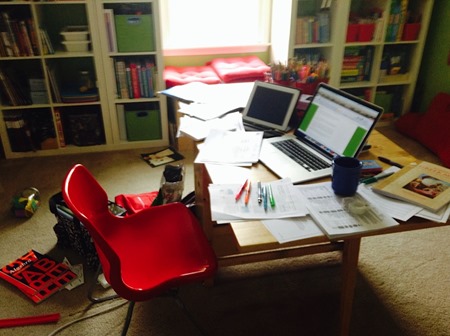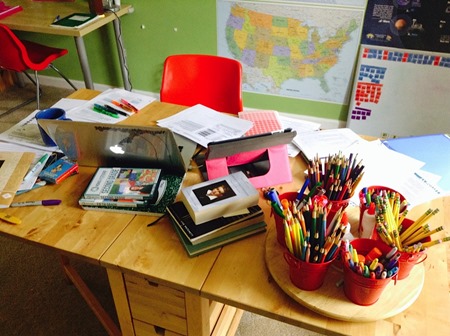 The school table – from both sides so you can be overwhelmed too.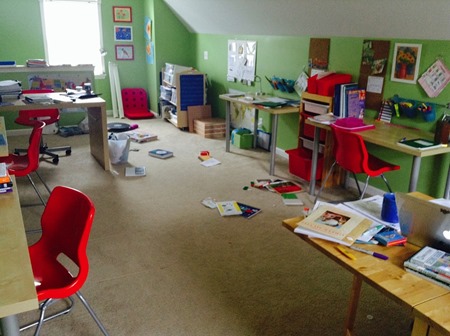 The room as a whole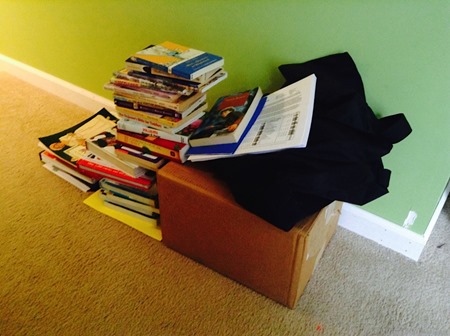 The big, fat pile of things that need to leave the schoolroom
The 20 Minute Aftermath
Keep in mind this was 20 minutes!! One of my biggest triggers in getting overwhelmed is surface clutter – and I am rather adept at creating it! Seeing the after is so relieving to me and mentally helps me relax and WANT to do more.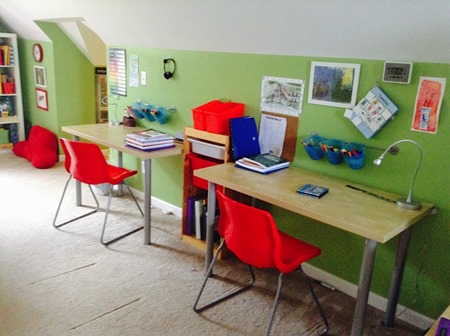 The kids desks are straightened…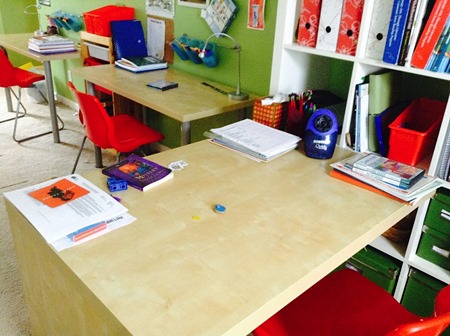 My desk is *almost* there…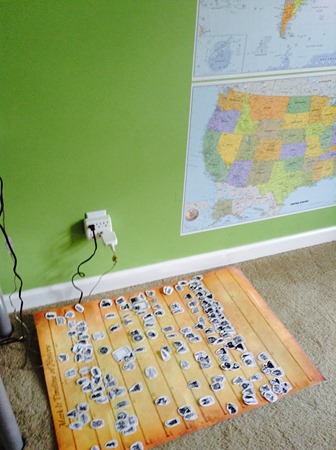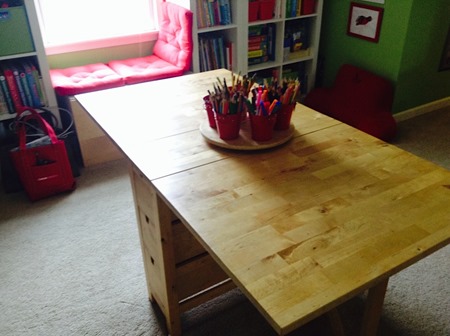 The table is CLEARED!!! *happy dance*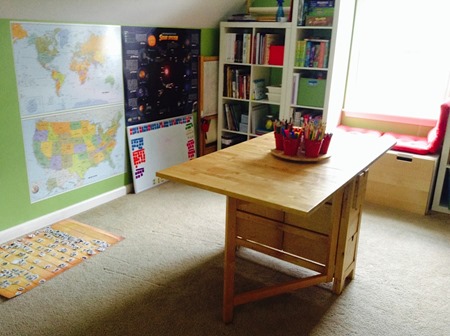 Just need to re-hang our history timeline!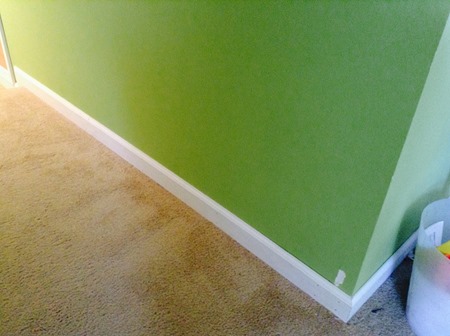 And the pile of books is gone (thanks to the kids!)
This isn't me temporarily hiding stuff around the corner (wink) – items were actually straightened, put where they needed to be, and organized for even more work later (i.e. desk piles of curriculum that need to be finished this week). I will note that I DID use child labor to move the books from the schoolroom to the basement shelf. Each kid grabbed one arm load of stuff and it was done in no time.
Organization may not be your strongest trait – and that's ok!! I'd encourage your to try setting a timer this week for 10 – 20 minutes at a time if there are some tasks you are trying to knock out of the way and see what you can get accomplished.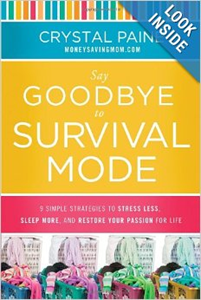 One of the books that I would recommend to help with task-organization (and it's an easy read!!) is Say Goodbye to Survival Mode by Crystal Paine (author of MoneySavingMom.com). The book offers practical tips and strategies to help take stress off while focusing on what NEEDS to be done. Many of the tips are ones that I've used over the years and are ones that I would suggest too (Crystal just does a great job putting it all down on paper!).
My Goals for the Next Bit
One of my friends and I have been texting each other each day with a picture of what we want to get done (before and after shots) to keep each other motivated and accountable. It's been a huge help, even if it's just one little thing like unpacking a box, organizing a drawer, straightening a room – anything that is hanging over my head.
I have a list of things that I would love to accomplish and ways that I can break the task down into smaller 'bites'. When I set the timer, I tackle one of those tasks and go until the timer goes off.
Want to join me? I'm going to try to post my 20 minute challenges on Facebook and share with you all each day. I'll share before and after pictures, and I'd love to have you join in with me!
What can you get done in 20 minutes today?