The past few days I've shared a mid-year update for our 11th grader and also one for our 9th grader – today, our 7th grader, Zachary, is on deck.
In the first bit of this school year, our boy managed to become both a teenager and also pass me in height. Zachary is currently eyeball-to-eyeball with his dad, but OY!
Incidentally, boy wonder has one of two dress codes, even when the weather is freezing: a sweatshirt and pants or NO SHIRT and shorts. Because of his growth spurt lately, I'm rather inclined to let the shorts go all winter and not deal with finding him pants unless absolutely necessary. (true story)
I've realized we have very few pictures of him this year. Someone isn't as happy to see the camera pulled out most days. :)
7th Grade Homeschool Update
One thing that we started this year – watching CNN10 in the morning with both boys. They have really enjoyed this addition (and it's only 10 minutes to our day). Our biggest frustration with it is our streaming speed. Inevitably it freezes up as we are watching and it's easy to get distracted and/or sidetracked because they want to finish it.
Here's a peek at what we have been working on this year for 7th grade:
History – One of the main switch ups for us this year was our history program. Granted, it wasn't huge, but around the end of October Zachary mentioned that he wasn't particularly enjoying the history we were using (not a set curriculum per se, but it just wasn't working overall). After one lesson, Zachary started spouting off all this information about the topic that he had learned years prior via Mystery of History.
At that point he asked if we could use that program instead. We've gone through the set with the kids in years prior and have all the books, so we pulled them out and have been working through books 1 and 2 instead.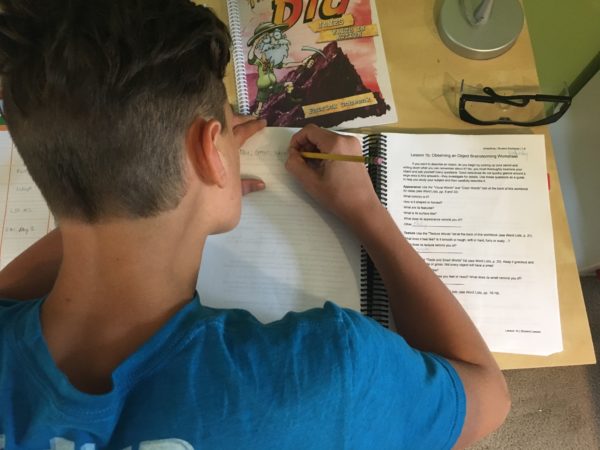 Writing – This is one area that is pushing Zachary into a bit more independence this year. I had his WriteShop 1 text printed and spiral bound which has been GREAT for him – mainly because he can't lose it. (cough)
Not that my child loses anything. Ever.
I truly love the WriteShop program and the foundation it lays for future years with our kids. It has been instrumental in helping our girls become the writers they are and is encouraging to see Zachary working hard in this area as well.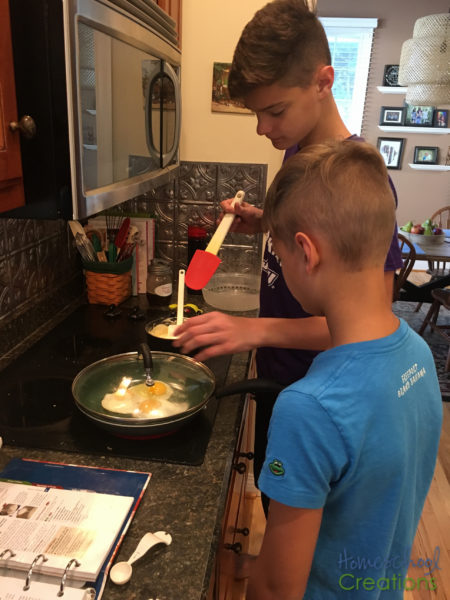 Boy Scouts – Granted, I know it's not on the list, but Zachary has been rather motivated by Boy Scouts this year and moving up in rank. Kaleb was able to join this fall too. His troop is working through one badge a month (above would be part of his cooking badge).
It's been great too seeing him take his brother alongside and help him out with Scouts as well and also more leadership with his troop. He ultimately would like to become an Eagle Scout by the time he is 16.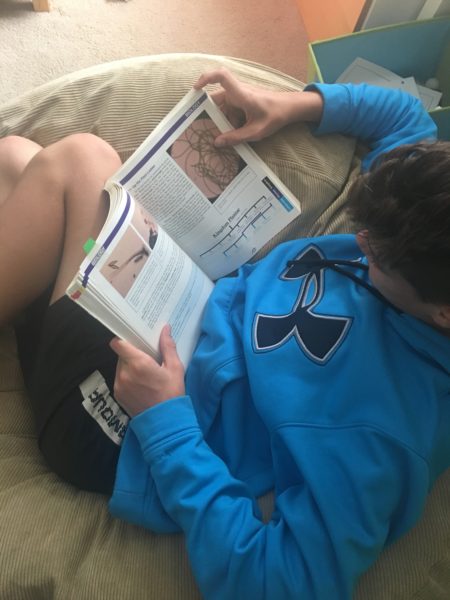 Science – This is one area that Zachary has been moving through rather quickly. Typically he is supposed to work through 2 lessons and one lab each week, but he ends up working on more lessons.
He'll complete his book before the end of the year for sure, so we are looking at some other options (STEM related) for him to add-on.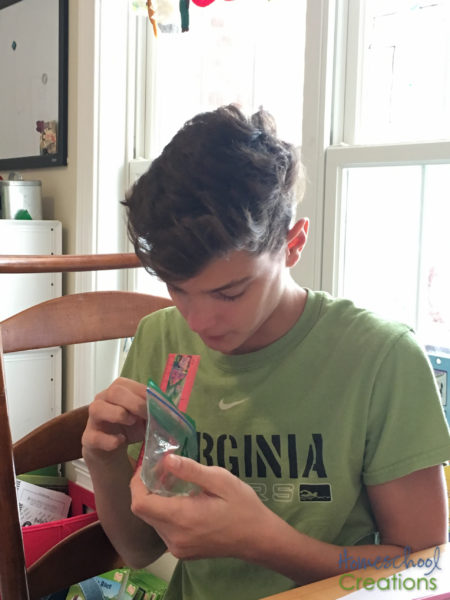 Co-op – We only have one co-op we are a part of this year, and Zachary has been working on a forensics class. It's one we pieced together using several different texts for our middle schoolers and has focused on different areas such as handwriting samples, fingerprints, and other similar topics the last few months.
Bible – Zachary has almost finished up the last two books in the Who is God series. This is another area that he has been working ahead in.
Vocabulary: We actually haven't started this yet! We will be starting after the first of January on this.
Math: Pre-Algebra is actually going great! Truly. :) It may not be his favorite of all subjects, but he is doing well and that't the important part.
How is YOUR year going so far?