Some days it feels like we have been homeschooling F.O.R.E.V.E.R. and ever amen. The days seem to be on an endless repeat, kind of like the movie Groundhog Day, especially when the weather has gotten cold and spending time outside is nothing short of frigid. All the excitement of those nicely sharpened pencils and fabulous homeschool tools – well, that's long past gone.

The great news is, the mid-year slump doesn't last forever. While spring is on the horizon and the promise of beautiful days tempts us, there are 5 ways to break out of the mid-year homeschool rut. Truthfully, there are many more (and I'd love to hear your ideas as well), but here are several tried and true methods that may help your family out.
1. Plan a field trip.
When the weather is nice, it's easy to remember to plan field trips to all of the fun outdoor places, but when the weather is cold take the time to visit some museums and stay nice and toasty. Look within a specific radius and plan to see a play together, visit a historical museum, enjoy an art museum, or visit a children's museum with friends. Get out of the house and have some fun.
2. Take a break.
Sometimes we get so fixated on the getting everything done and squeezing in every bit of learning that we forget to rest and take a vacation. Our family has a six week on and one week off vacation schedule that helps break up the school year for us (other families follow a 9 week/2 week cycle or have their own schedule).
Find a good routine that helps your family stay in a great learning mode and keep it fresh as well. Vacations and relaxing are GOOD things. And try to plan an actual day of REST for yourself. Curl up with the kids and watch movies all day.
3. Mix it up a bit.
Put aside the typical school work for a week and do something different. If your school day follows the same routine, mix it up by spending a week on a unit study. If your kids are interested in a specific animal, take a week to learn as much as you can together. Otherwise, try flipping your school day around and work backwards to break out of the monotony a little bit.
Better yet, ask your kids to help you plan a week of learning. Follow their interests and let them help lead the way in their learning.
4. Use those extras!
Remember all the learning manipulatives, games, and extras that you have on your shelves? (Cough.) Take a day (or two), pull them off the shelf, wipe off the dust, and learn using all of the hands-on materials you have. Mad Libs, Legos (build a scene while reading history), Bananagrams, Sequence States, wooden blocks – you know what's available. USE IT! Let it be a memorable week together and have fun!
5. Take a nature walk.
Yes, it may be cold outside. There may even be tons of snow, but get yourselves outside, moving, and explore the world around you. The fresh air will do you (a whole lot of) good, and you can warm up with some hot chocolate or tea when you get back inside. There will be plenty to journal and talk about together and it may even launch into a great topic study on winter animals, maple syrup, or another fun topic!
Mid-winter doesn't have to be a time that throws your homeschool out of whack. What ways has your family found to break out of the same-old, same-old rut?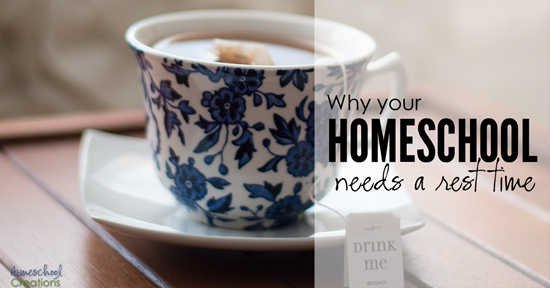 Think we're crazy? I promise you, I'm not! You NEED a rest time in your day, moms!! We can't keep up a crazy pace and not feel like we're going crazy ourselves! See how our family implements a daily rest time HERE.