We are far past officially DONE with the year, but it's fun to look back and see what worked well – or didn't work. (There's no shame in that. We can always learn from what happened!)
Last year I shared a series of year end posts and it really helped me figure out a plan of attack for the upcoming year as well. You can see all of our curriculum choices in this post here, but below you'll get a good look at what we used for Kaleb's 3rd grade year and how it all worked out overall. There were a few more challenging spots for us with him (and one area we didn't get to), but it has been a great year overall.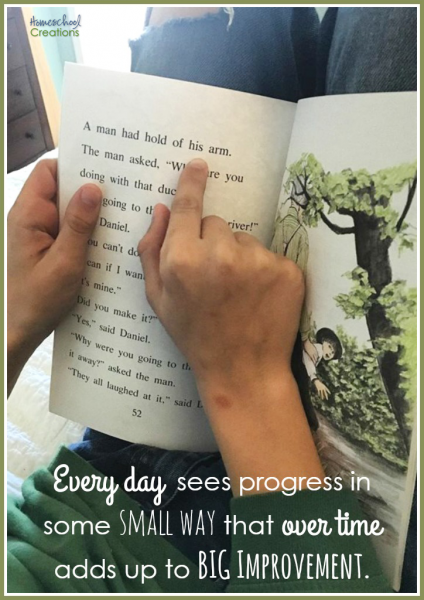 The one thing that I feel I personally have walked away with this year and Kaleb's learning is that progress is progress – and sometimes it's seeing the small progress over time that adds up to big improvement.
The 3rd Grade Year Plan…
Here's a quick look at the overall plan for our 3rd grade year…
Science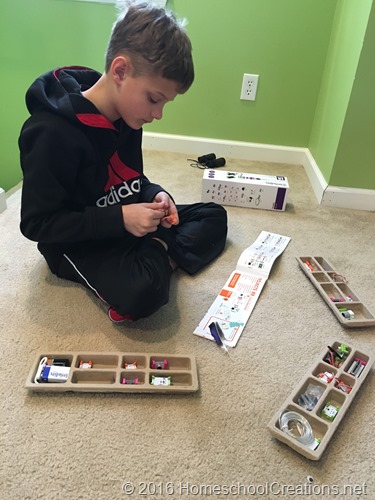 Science is hands-down one of Kaleb's favorite subject areas. In addition to Nancy Larson Science 3, Kaleb had a BLAST with creating Little Bits projects and creations with KEVA planks (secretly I may want to get many more of both).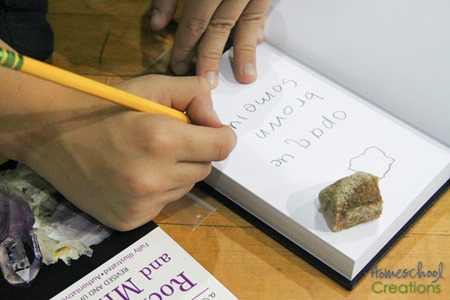 We also added in some more hands-on fun with the Rock Hound's backpack and it has opened up a love for ALL rocks with Kaleb. He is constantly looking for rocks to learn more about and I love that it has inspired something in him. His backpack now sits in our living room and there are rocks on our counter all.the.time.
While we are not planning to use a full science program next year, these three will definitely be handy and we are looking at getting more of the Little Bits and Keva Planks to use!
Spelling & Reading
Our weekly schedule for All About Spelling was about one lesson a week or every other week, and I love that our spelling and All About Reading overlap and tie-in together. We didn't push too hard but did see huge improvements in the area. We also worked on All About Homophones, but that was more of an occasional lesson (maybe seven throughout the year based on what we were learning).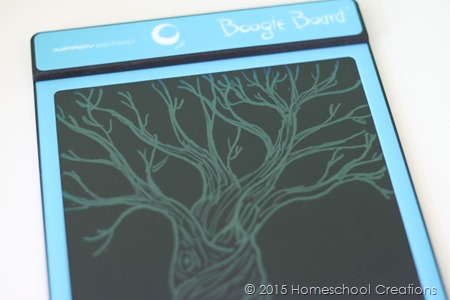 Writing is one of Kaleb's least favorite areas, but one thing that helped a lot was our Boogie Board LCD tablet – for Kaleb it made the handwriting bit of things a bit more bearable (grins). Every lesson we worked on several sentences as well. Overall, a slower year than what we were planning, but we were trying to keep pace and not have him get frustrated, so we'll be finishing up the book next year.
One thing I'm thankful for is the flexibility the lessons offer in working through the levels as appropriate for our kids.The similar formats simplify the teaching and they streamline well together. This will definitely be a program we use again next year. (For those of you who know me well, you know that it is our favorite homeschool spelling program, hands down!).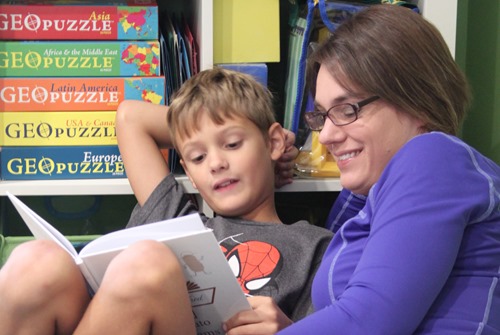 While we didn't get through our All About Reading Level 3, Kaleb did make some HUGE strides in his reading. Buddy Reading was something that made a big difference in our reading as well (taking turns reading pages – this article explains it a little better).
We took a bit of a break for a little while and added in the Life of Fred readers – and oh my goodness, the boy LOVED them. Kaleb prefers to read these over and over again, building his reading fluency and speed as he goes through them – and I LOVE that. You can learn more here. For now, we'll move the rest of AAR 3 to next year and keep going at a pace that works for him.
Read-Alouds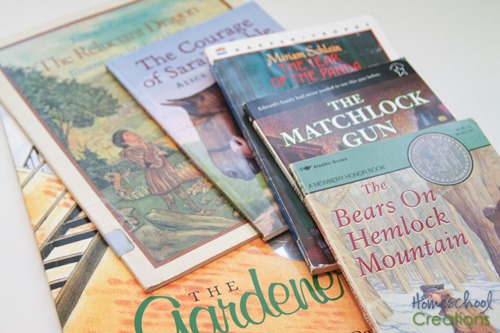 We managed to get through almost all of the read-alouds from Kaleb's 3rd Grade Reading list and then some other great books and audio books as well. Kaleb has loved the audio adventures from Heirloom Audio this year especially, and those CDs have been in the boys' room during their rest time to listen to over and over.
Math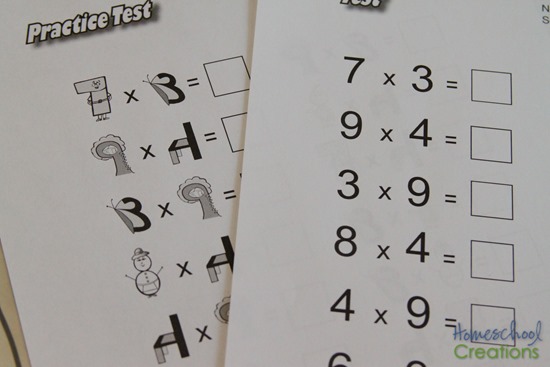 Using Teaching Textbooks was a great fit for Kaleb and we will definitely plan on using it again next year for him. We added in some fact learning fun using Times Tales (we used the download version). This program helped the boys focus on some of the harder times tables and we'll keep the videos on hand to review next year as well.
History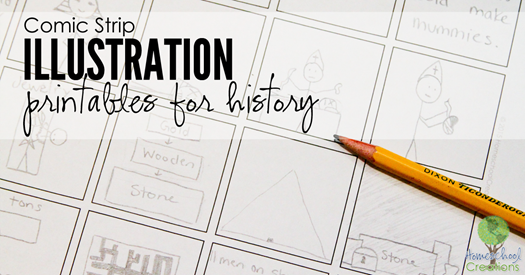 This isn't one of Kaleb's favorite subject areas, but it was made tolerable with our comic strip illustration printables. He isn't a huge fan of drawing overall, but he does stick figures like a boss, especially since he can keep up with them. For us, that's his way of 'writing' so he doesn't have to ask how to spell every word and the pictures help him remember the story.
Next year we will be switching up history a little bit – not because we don't likeMystery of History 1 and Story of the World 1 – but we are going to try to tie in our learning with our high schoolers so we can go on some fun field trips together for US History.
Grammar/Language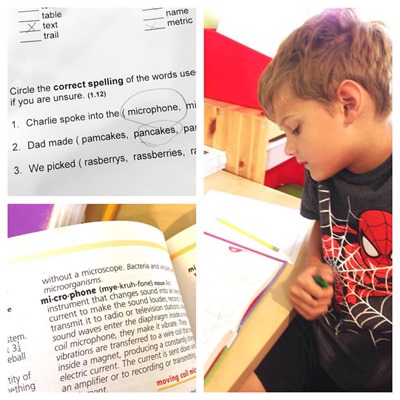 This boy loves his grammar work. There honestly isn't much to show in this area, but it is one thing he is determined to work on each day. (grins) For vocabulary, we worked through several cards a week and will continue to use the cards from Marie's Words next year. All of the kids really enjoyed the visual part of learning the words.
Writing

Kaleb finished up most of his WriteShop C program, although he didn't necessarily do a lot of physical writing, but would dictate his stories to me. One thing he loved were the Story Detective printables that I put together to go with some of his lessons.
Next year may prove a little more interesting in the writing department, but I have to remind myself that we've had another reluctant writer in the past as well. These tips for a reluctant writer have been a renewed encouragement to me this year too.
Bible
We took it slow and easy with Grapevine's New Testament Overview (as a group) and also added in Big Truths for Young Hearts each morning. The latter is one we will continue working through since it's more of a family discussion time and has about 52 weeks of reading.
Art

Definitely a subject we will continue next year, especially with Home Art Studio. Kaleb enjoys art so much and creating projects to display (where we have other kids who could care less – grins), so if he is willing to work on them, I am more than happy to oblige!
Handwriting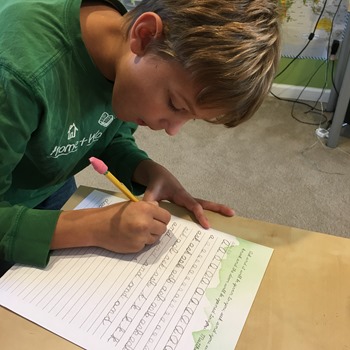 While the cursive program (and memory verse learning) we worked on this year was great, I will likely switch us back to a pre-planned program next year, since I was the one putting it together.
The Bust Subjects
Our geography plans went out the big ol' window this year, but we are re-vamping that for next year. It's all good.
Co-op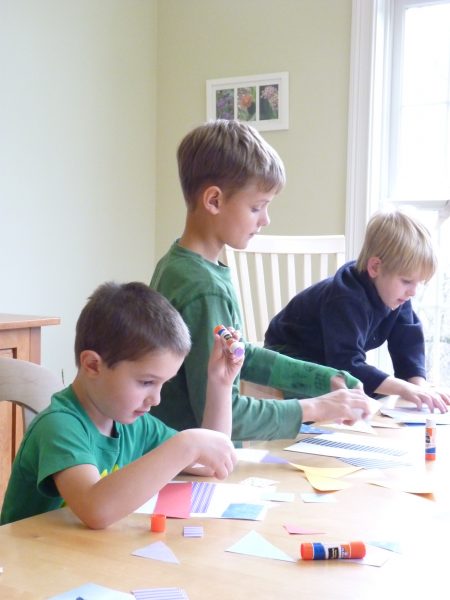 This past year we participated in two different co-op groups, and I truly love the chance to get together with other families and work on different classes we might not normally fit into our year. Next year we will only be participating in one co-op (for my sanity), but it was fun while it lasted!
Different classes Kaleb had this year were US Geography (perhaps I reason I didn't focus as much on it at home), Five in a Row books, Spanish, PE, and Music. We wrapped up one of our co-ops with a large musical as well.
The kids were also a part of a year round swim team, and while they started off enthusiastically, by February/March, their energy was petering out. If we decide to do it again, we will likely choose a shorter time-frame for the kids. Kaleb is one of our strongest swimmers and truly loves it, but it involves a lot of driving and time in the evenings, so sometimes finding the balance is tough!
I'll be sharing our year end review of 5th, 7th, and 9th grade soon, so be sure to check back – as well as our plans for the upcoming year as well!