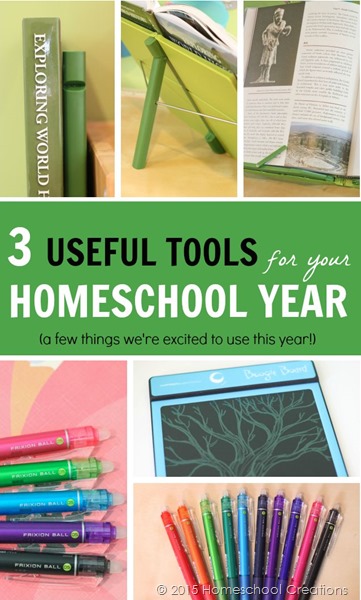 Next week officially starts our homeschool year. Lord have mercy, I am not ready yet!! While there are a few homeschool supplies we love and use daily, this year we found three new items that we can't wait to get started on using – and I'm sure will become things we wondered how we ever did without. Two of these the kids get to use and the last one is a mom-only – no kids are allowed to swipe my supplies! (Yes, I may get a bit territorial at times, I'll admit it!)
Folding Bookstand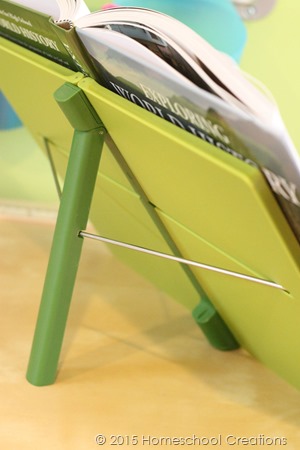 Laurianna has a lot of larger textbooks this year in high school and this would have been so handy to have last year as well! The folding bookstand is really compact and opens/closes easily so she can take it with her to co-op and quickly prop it up on her desk to hold one of her books, save a little desk space, and keep her place in the book.
It's actually a cookbook holder, but will definitely do the job, especially with those larger books. Above you can see a quick video of how it works.
Boogie Board eWriter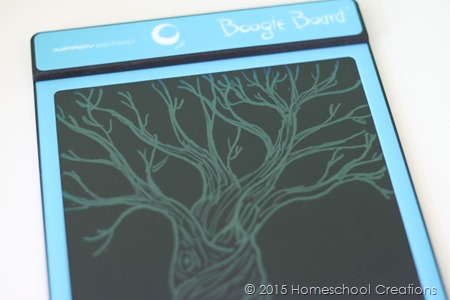 Sometimes there are things that you just don't want to use paper for or don't necessarily need to have a record of. The kids will all be using the Boogie Board LCD tablet for spelling and a few other subjects that will allow us to work on the tablet and then erase it when we are done.
There is a special pen that writes on the board, so you can doodle, draw, or take notes to your heart's content. When you are done and need a clean slate, you push a button at the top and the entire contents erase, leaving you with a fresh screen. The kids have already been having a blast drawing pictures and using it for their math work.
For us, this will also be handy when traveling and we don't want to bring a bunch of extra paper (yes, I'm one of the moms that might make her kids do school work when we travel). There are bluetooth versions available which would sync your notes to your computer, but for now the standard board should be great for us (especially since this is 1/4 of the price)!
Erasable Pens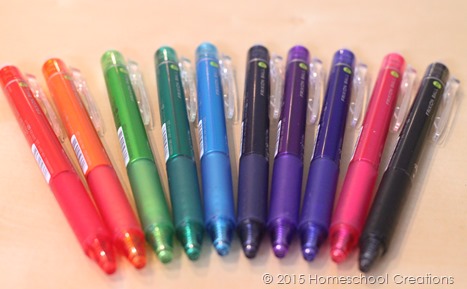 These are the 'mom-only' supplies. Yes, they are fun and the kids will enjoy them, but sometimes I like to have something for just me. For the last year and a bit I've been using the Pilot Frixion pens but this year bought a set that is clickable – meaning I don't have to take the cap off (and lose it). The eraser of the pen stays in place and the set comes in a variety of colors too. Being able to erase any mistakes = heaven. And ten colors – yes, please.
My color-coding brain did a happy dance when I saw the clickable version of these pens.
Seriously they have been the best pens ever. The ones I used last year were so handy for correcting papers, because I like using pen, but hate that when I make a mistake I have to scribble everything out. I like a smaller point too on my pens, so the .05 size is perfect for using in my planner or correcting or anything.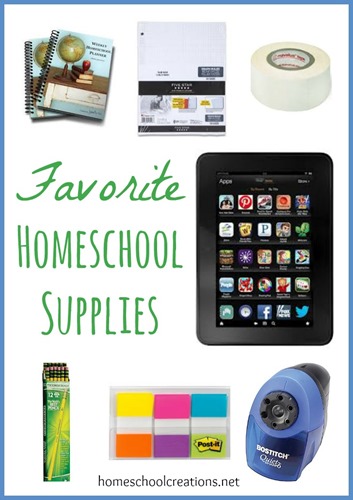 Here's a peek at a few of our other favorite homeschool supplies as well. Do you have a useful tool or supply that has helped your homeschool time? I'd love to hear about it – leave a comment and share!