This is the first year that I did absolutely nothing school-related during our Christmas break. We finished up the second week of December, turned the temperature down to 45 in the schoolroom – and walked out.
In case you were wondering, that's pretty much a 'never before happened' event in the years we've been homeschooling. Typically my brain has trouble shutting off, ignoring all the stuff that I feel needs to be 'done', and just relaxing.
Can I tell you how nice it truly is to shut down and just BE?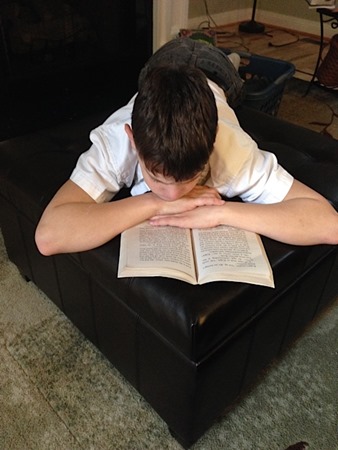 Not a paper was graded from co-op lit class. I didn't once sneak up to finish filling out lesson plans from the week prior. No sorting, re-organizing of the schoolroom, or anything. Instead we all just relaxed. Visited the library. Read a LOT.  Played with friends. Took at trip to visit family. And did pretty much nothing – with the exception of wrapping up a home project that was smack dab in the middle of our living room.
Doing nothing is nice.
It's given me time to reflect on this past year, think ahead to the upcoming year, and put down some thoughts on paper. While I don't exactly make resolutions, there are some goals that I've set for myself and will sharing this week with you all.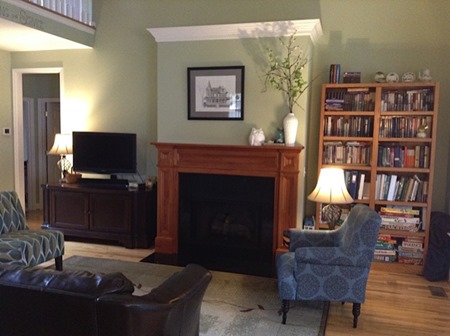 our living room – before the redo
Maybe you remember my sharing one of my November goals – to paint our fireplace and get the bookcase home project started. The fireplace did get finished, but unfortunately, the rest of the project didn't go quite as quickly as we planned. We thought it would be completed at the end of November.
Note to self: when planning a home project, start earlier than you think you should. Especially if you want to make sure it's done before the upcoming holidays.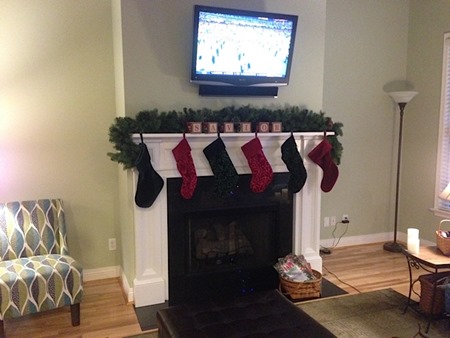 We started decorating for Christmas (thought we'd be waaaaay farther on the project at this point), cleaned out all the bookcases. And waited.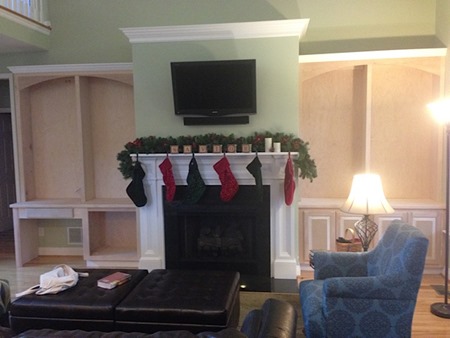 But wood doesn't come painted. Who knew? So… much of the two weeks my hubby had off over Christmas were spent priming and painting. Granted, his work looks fabulous, but I'm pretty sure he would have loved to be a whole lot more lazy. (grins)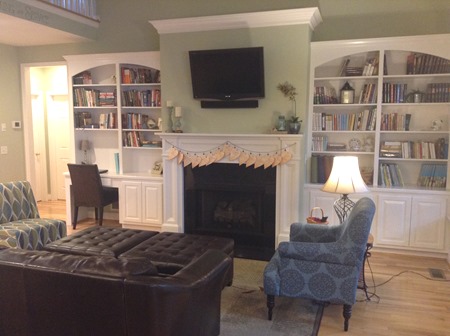 the living room after
Finally though – we are DONE! All the books, games, and such were finally moved from our bedroom (we won't talk about how those piles about threw me over the edge for close to a month…). I cannot tell you how wonderful it feels to have books that were hidden in the basement for years finally see the light of day and everything in one place – pretty much how it was all pictured in my head. What do you think?
And as a bonus, I even managed to hang up a decoration on the fireplace for Valentine's Day, a fun garland from Family Life that will be a devotional to talk about love in the weeks leading up to February 14.  I'm feeling rather giddy about that at the moment.
I don't think I'll be able to wait go into the schoolroom until we start back Monday morning – a quick trip up the night before is in the plans, but I have to tell you, shutting down is definitely something I plan to do again. AND I highly recommend it, especially for your sanity. Minus any home improvement projects.
How did YOU spend your break? Did you relax and really rest?