When I was younger (we're going back over 30 years here), one of my favorite things to do was buy and collect stickers in special little books. I would save up my hard-earned money to carefully pick out the latest Lisa Frank stickers by the mini-sheet. Stickers were moved from page to page depending on my mood – should I sort them by type, colors, genre? Friends and I spent hours trading stickers and going through our books. Do any of you remember those days?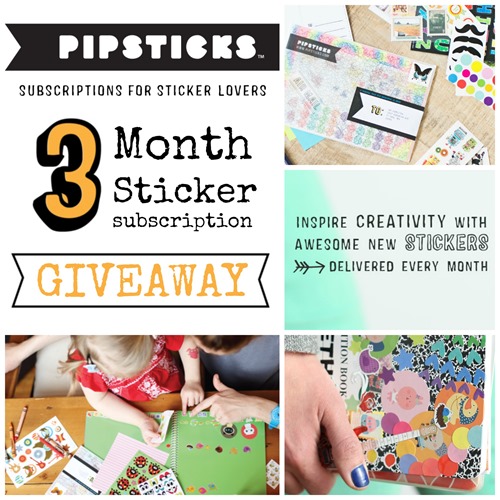 The memories came flooding back to me when Pipsticks contacted me about offering a giveaway to my readers. Since I know how much I loved stickers, how much fun my kids have with them – I was sure that your kids would love to get in on a little stick fun too!
What is Pipsticks?

Who doesn't love stickers? Any parent, teacher or pen pal knows the true power of these little gems. Stickers can motivate, silence, entertain and delight with unmatched simplicity.
Designed to tickle the imaginations of kids (and those of us who can't quite grow up), Pipsticks brings a beautifully curated pack of stickers to your doorstep – or mailbox as it may be – every month. All stickers are selected by designers and sourced from global suppliers. Shipping is free in the US and there are sticker club subscribers around the world (sticker love knows no borders!).

Each sticker pack includes a minimum of 15 sheets of stickers, including puffy ones, sparkly ones, and sniffy ones, as well as a few crafty additions to keep you inspired and keep the little subscribers from sticking where they're not wanted.
There are three different options for sticker lovers:
Sticker subscription plan – there are two plans you can choose from: the Club or Family pack. Family packs include 3 times the sticker fun to help cut down on any sibling squabbles (or maybe that would just be my kids). Shipping is free in the US.
Taster packs are perfect for those not quite ready to commit to a subscription plan.
Gift a subscription or taster pack – stickers make great gifts. Let Pipsticks do the shopping for you!
Get Inspired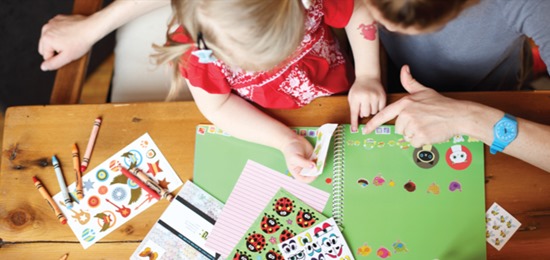 If you need ideas and additional inspiration, be sure to check out Pipsticks blog for fun activities and things to create together.
Visit Pipsticks and download the FREE Pipstick sticker placemats too! There are twelve 11"x17" placemats for you to print off and keep little hands busy at dinner time – or to create a fun table for anytime!
A Giveaway for YOU!
Pipsticks is excited to give away a 3-month Gift Sticker subscription. One Pipsticks sticker pack will be delivered to the happy recipient every month for three consecutive months. The pack includes loads of different stickers (of course!) each month plus a stamped postcard and a few fun extras that will keep the creativity flowing.
To enter, just follow the directions in the widget below. Giveaway is open worldwide through Friday, January 17, 2015 at midnight.