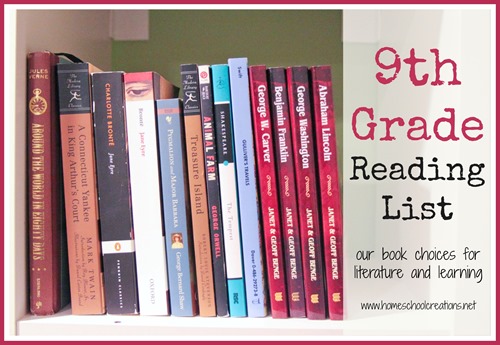 While our daughter is actually in the 8th grade, the literature class she is taking is for high school credit. So – I'm not sure if you would term this our 8th or 9th grade reading list (grins). Many of the books on Laurianna's reading list include ones that are a part of her literature class, but there are also a few added we'd really like for her to read because they go along with the era of history that we're studying (early America to modern times) or we want her to read a book before seeing the movie (The Hobbit). The typical pace is at least one book per month for her lit class, and another one when that book is finished.
Remember, this list doesn't include any the books that she decides to read over the course of the year just for fun. She has her eye on a few books and definitely takes advantage of our library system! Keeping up with our 8th's graders voracious reading can be difficult. She is constantly borrowing books from the library or friends, but not all of them are ones that we would call 'school worthy'. This also doesn't include the list of family read alouds for the year – and we've already worked on a few of those!
A peek at her reading list for the year:
A Few Extras on the List for 8th Grade:
Since many of the books also have a video version, we're hoping to watch them together (after we read the books, of course) and compare the book to the movie version. It'll be a little something fun we can do together.
Overall not a huge list for the year, but several of the books are fairly hefty and will involve a lot of essay writing and discussion, so definitely enough to keep her busy for the year!
What books are in your kid's reading stack for this year?
Homeschool Reading Lists for our Other Children
Interested in seeing reading lists for our other kids as well? Check out our reading choices for this year by clicking on the images below. Stay tuned for our 2nd grade reading choices!