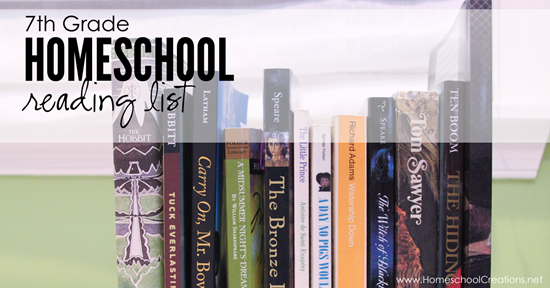 Last week I shared our
10th grade homeschool reading list
with you all, and today I'd like to share our
7th grade homeschool reading list
. Our daughter's list is built in part from suggestions from
Ready Readers 3
and
Reading Roadmaps
.
Both guides are ones that I highly recommend if you are looking to build quality literature lists for your children. The Ready Reader provides a comprehensive look at the included books in areas such as  conflict, plot, setting, characters, theme, literary devices and author of the stories. It also contains  a fabulous set of questions (and answers) to get us started. We loved the one we used last year and look forward to this one as well. McKenna and I are definitely looking forward to many of the books on her list, and she has already finished three of the books. Each week we sit down together and talk about different aspects of the books that she is reading, including the story line, characters, theme, etc…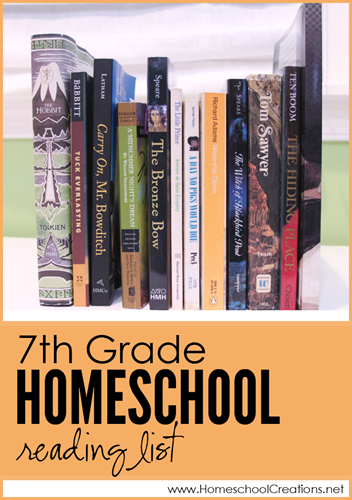 Our 7th Grade Homeschool Reading List
This list doesn't include our family read alouds or any books or series that she chooses to read during her free time. Typically she has an assignment due for each book: a short paper summary or a story map with corresponding questions for the book. There are a few books that will require a 'deeper' paper for her this year as well.
A few of the above books have a video version available, so we are going to have some movie fun together (McKenna is definitely looking forward to that!). Comparing the movie to the book is a great process as well, especially since they often differ so much from each other!
Homeschool Reading Lists for our Other Children
Interested in seeing reading lists for our other kids as well? Check out our reading choices for this and past years by clicking on the links below.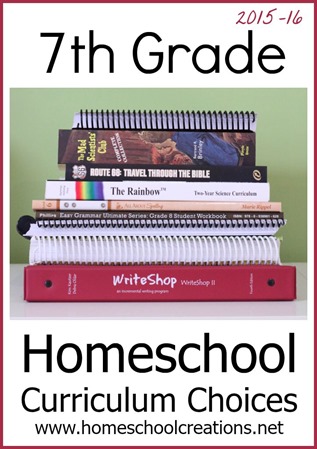 See all of our curriculum choices for this school year in our 7th Grade Homeschool Curriculum Choices post. It includes our lit program and several other wonderful programs we are loving!
What books are on your child's reading list for this year?