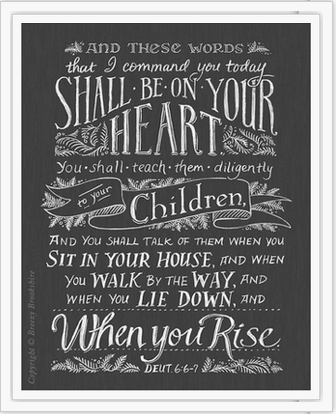 Hanging above my desk space in the living room is a print to absolutely adore. I'm a fan of chalkboard art and this small poster features a verse highlighting Deuteronomy 6:6-7 – teaching our children diligently. It was a print given to me several years ago, but hangs as a daily reminder of our family's desire to surround our children with God's word.
Both attending and speaking at homeschool conventions over the years have been a huge encouragement to my heart and our family. Sitting in on sessions and listening to helps that can be applied to a situation at home, walking around a vendor hall and getting an up-close look at curriculum for the upcoming year, talking with other families who are on the same journey – every little bit of it makes our homeschool journey a little easier, brighter, and manageable. Beyond homeschooling, there have been sessions that have encouraged my marriage, the ins and outs of daily life, and moments spent in prayer with other families (that's a personal favorite).
One convention I absolutely love and support is Teach Them Diligently. Over the past three years, I have been honored to speak at several of their locations each year and will be joining them again this year in several (maybe all!) of their four locations: Rogers, AR; Atlanta, GA; Sandusky, OH; Nashville, TN.
Beyond the convention itself, the family that runs and manages Teach Them Diligently has a very special place in my heart. David and Leslie Nunnery are two of the most giving and servant-hearted people and their hearts are to minister to the homeschool community. They have done this year after year by pouring endless hours into creating a convention packed with speakers that will motivate, encourage, challenge, and bless you beyond belief.
A FUN PARTY and HUGE Savings!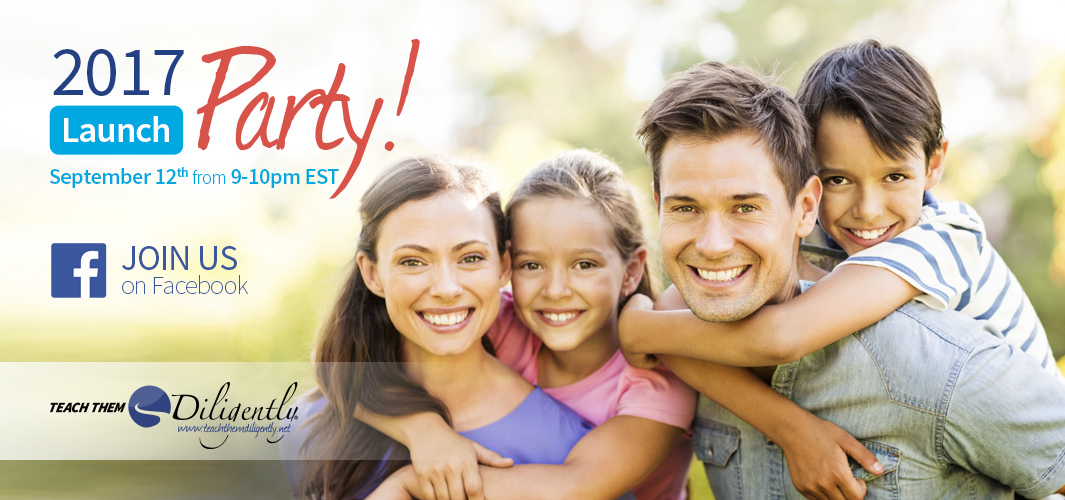 If you'd like to learn more about Teach Them Diligently, join their Facebook Launch Party from 9-10pm EST tonight (Monday, September 12th). They will be announcing the main speakers and also be offering a large discount if you register Monday evening for any of the events (prices will increase Tuesday morning).
They have been working hard to pull together some amazing prizes for everyone and will be announcing the 2017 speakers and program! Look at some of the prizes…
A GOPRO SILVER!!
A FAMILY REGISTRATION AND 2 NIGHT STAY IN TTD HOST HOTEL
A 5-SUBJECT LIFEPAC SET
A FULL SET OF CS LEWIS AUDIO BOOKS
1 YEAR SET OF FINE ARTS STUDIES
RAISING REAL MEN BOOTCAMP REGISTRATION
AND MORE!!!
There are over $1000 in prizes that will be given away during their launch party, so set an alarm and RSVP using THIS LINK and let them know you are coming – your RSVP will enter you to win the GoPro Silver and you'll also receive a free e-book devotional.
Don't miss the party tonight! Hope to see you there. :)