Nine weeks. One semester. Twenty-five percent of the year is finished. Woot!  Looking at things that way makes it seem like our year is going by rather quickly (I'll need to remember that at some point in early February when the winter months are closing in!).
The last few weeks have been packed with lots of learning, co-op time, and general fun. Here's a peek at some of the things we've been up to the last two weeks.
Creating Masterpieces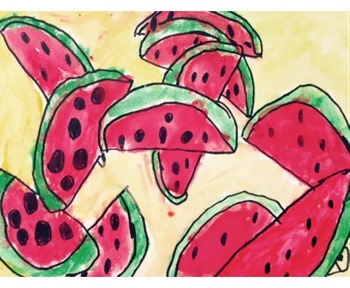 Kaleb's Watermelon Watercolor
Everyone is enjoying art time – especially our 7 year old. He asks every day if he can do another art lesson and works on at least 2 a week (last week was 3). The wall above his desk is filling up with all of his masterpieces – and I LOVE that he enjoys Home Art Studio so much! The above project was his first real try with watercolors and then he used Sharpie to outline the pieces. Part of the lesson was also working with layering objects. He was SO proud of it! (The big seeds crack me up!)
McKenna and Zachary also worked on a few art lessons that past few weeks and are busy looking for places to hang up their artwork. We have so many great pieces to showcase, and deciding what to hang up is so hard!
Reading (and Listening) Together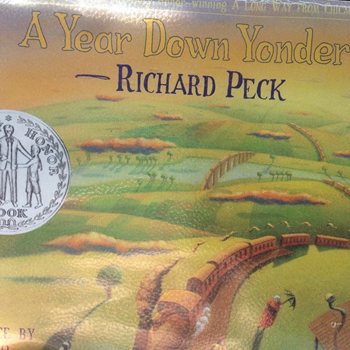 Audiobooks and audio theatre have been a great resource for us the last month. A few of our favorites have been Under Drake's Flag (G.A. Henty) and A Year Down Yonder (Richard Peck). The first one had us on the edge of our seats as we followed the unfolding drama. The second had us rolling off our chairs and laughing at the grandmother in the story.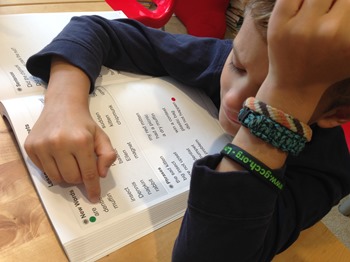 The boys current read-aloud is Thomas Edison (Heroes of History), while Zachary just started a book on Benjamin Franklin for his independent reading and is working through All About Reading 4 rather quickly (yay!). Kaleb is making great progress in All About Reading 2 and gaining confidence all the time.
The girls are reading their own books for literature. McKenna is in the middle of The Trumpet of the Swan and enjoying that.  See our 6th Grade Reading list here. Laurianna finished up Around the World in Eighty Days and started on A Connecticut Yankee in King Arthur's Court. You can see her full 9th grade reading list here.
Me? I'm catching up on Around the World in Eighty Days (I'm almost done) and then starting on the same book as Laurianna. And then having fun with my 'mom' reading list.
Science Time
McKenna is really enjoying her Rainbow Science program this year. Her typical schedule is 2 lessons and 1 lab each week. Her lab this past week was comparing how food dye dissolves in warm water vs. cold water. Can you tell which is which in the picture above?
feed readers – click here to see the video clip
Laurianna spent much of the last two weeks building a steamboat for her science class and learning about simple machines and buoyancy. The video above is pretty rough (excuse that yucky bathroom lighting), but she was so excited once she got all the leaks plugged! There may have been a wee bit of frustration over that initially – but can I say that the folks at Exploration Education are FABULOUS at offering help over the phone. They talked to Laurianna and gave her some suggestions, and that solved the leaking issues!
Game Time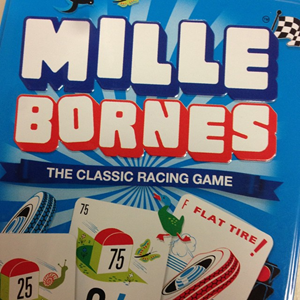 Mille Bornes is our 'game of the month' – and it's been a bit challenging to figure it out. We're getting there, but it isn't as simple to figure out as I thought it would, but the boys and I have really been enjoying it together. Anyone have some tips for me? I looked for a YouTube video explanation of it, but the one I found wasn't (to put it nicely) very kid friendly.
Lazy Days…
We did have a fun 'lazy' day of school (Columbus Day) when the weather was super rainy and motivation was at a low spot. That meant we spent time curled up on the couch together reading, watching our history lessons with Drive Through History, and just making our school time mobile. I love that we have that flexibility in our homeschool time, and we don't have to be confined to a desk to learn!
This next week we're going to cover a few more Drive Through History lessons along with Liberty Kids for fun (the kids haven't been watching tv otherwise during the week, so they will enjoy that!). We've been using Mystery of History 4 and just finished learning about Napoleon, the Louisiana Purchase, and are learning a lot about our early American history. I have to say, this is all just as much fun for me as the kids, because there are many of these facts that I don't remember from my schooling and it all fascinates me so much!
What have YOU been doing the last few weeks?
Linking up this week with Collage Friday and Weekly Wrap-up!