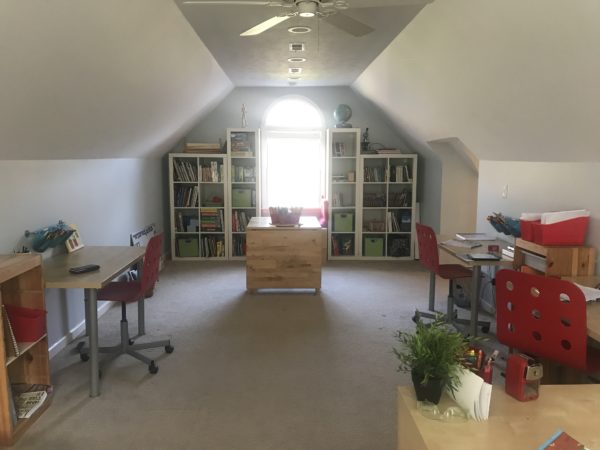 It's finally painted!! Well, all but the stairwell, but my hubby knows me and painted the part that I can see the new blue color and will finish the rest later. This painting has been in process for some time, and it's great to be back in our space and have it be re-organized.
The first few weeks of school were so much easier with everyone being in one area (and not distracted by disappearing to other spots in the house only to not return). When we started the painting there were some areas of patching that needed to happen and everything had to be pulled away from the walls – and then we had to decide on a color. Good grief that can be a pain! We finally settled on Benjamin Moore Mountain Mist – not too gray, but light blue enough that it didn't seem white.
If you follow me on Instagram at all, you may have seen the stories I shared with the color difference. I'm hoping to share more via quick stories – it's a bit out of my comfort zone, and apparently I need help at times from my girls (which they are happy to tease me about).
So now we're adjusting to being back in the schoolroom, which is taking a bit. Gotta love it!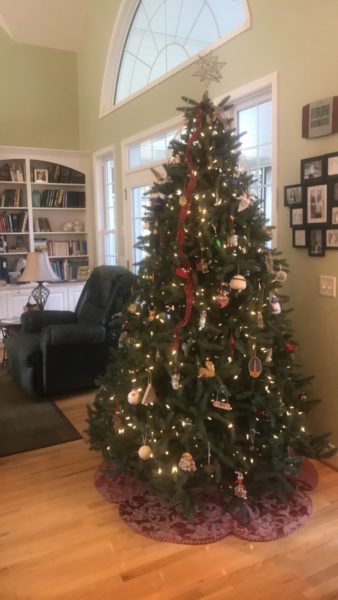 Everyone was finally home at the same time Sunday night, so we were able to decorate the tree together. Looking back at all of our ornaments we've collected over the years is always so much fun – remembering what we did together as a family and places we've visited. (Which reminds me that we forgot to hang up our ornaments from our trip to Europe this summer!)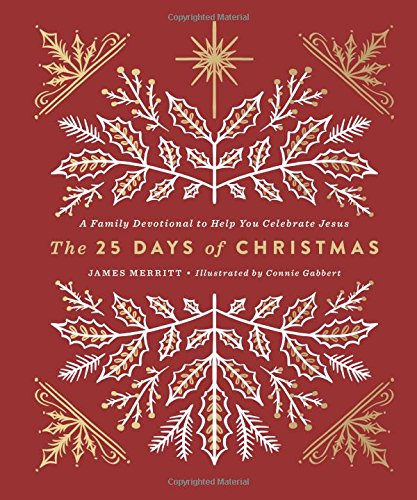 We're gearing up for Advent too and I ordered a new book, The 25 Days of Christmas, to read together as a family. Confession: we don't always get to things every day, the kids don't always want to read along with us, BUT there are times that it's important to go ahead and do it anyway.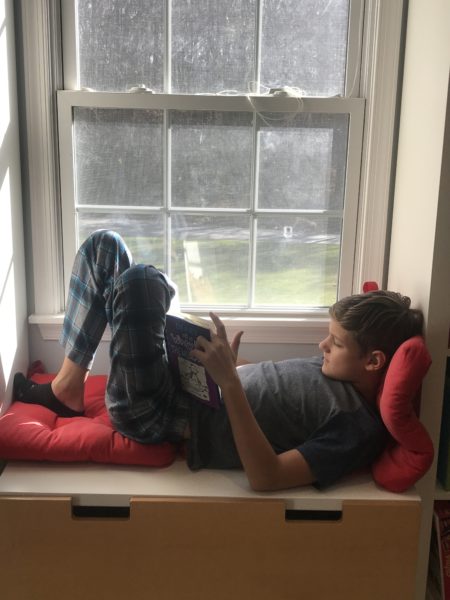 Earlier this week I shared about something that had me crying in Costco – Kaleb reading. While the book choice of the latest Diary of a Wimpy Kid book may not be on my "recommended reading" list for 6th grade, here's the thing: he picked the book out himself and HE HAS BEEN READING IT. No, it will never be considered classic literature, but my goal is to have him ENJOY the process and not loathe it so that in the future he will pick up another book and discover that he can read and wants to read.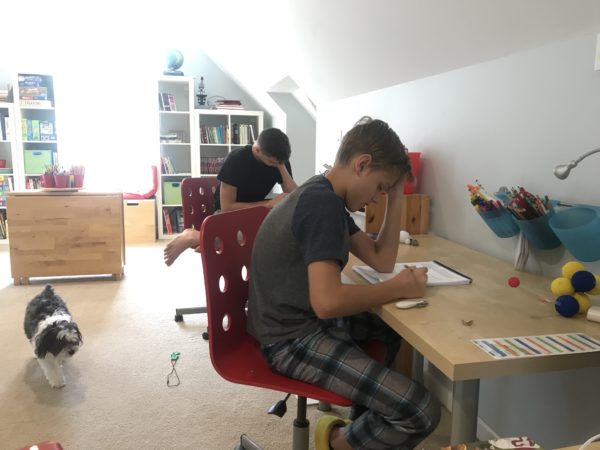 My view this week as I play catch-up on grading (cough) has looked much like this – both boys working on their independent work. McKenna has been curled up in her room on the floor and I'll spare her the embarrassment of sharing a picture of her little "nest" she has created.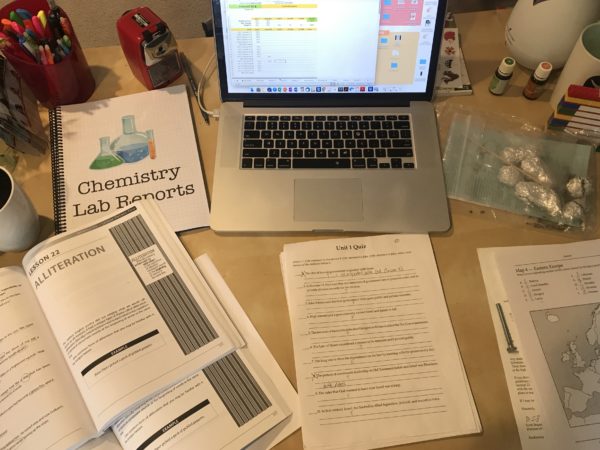 This has been my desk much of the week. McKenna has wrapped up her poetry course, so I'm going through her book grading her assignments, catching up on her gradebooks, printing off quizzes for Zachary to take, and finishing up a few other things. But grading can sometimes be the death of me.
Incidentally, those are owl pellets on my desk. Because we homeschool. And only homeschoolers would share a Facebook status update asking if anyone wanted owl pellets for dissection. :)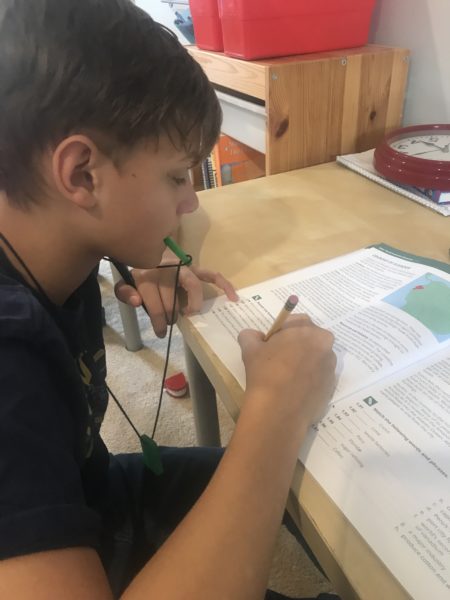 Can we talk for a moment about the boy who needs to constantly have something in his mouth? The schoolroom reorganization uncovered our Chewigem dog tags and Kaleb has had them nearby most of the week. It's something little, but rather than biting a lego or his shirt, they at least offer some quiet help.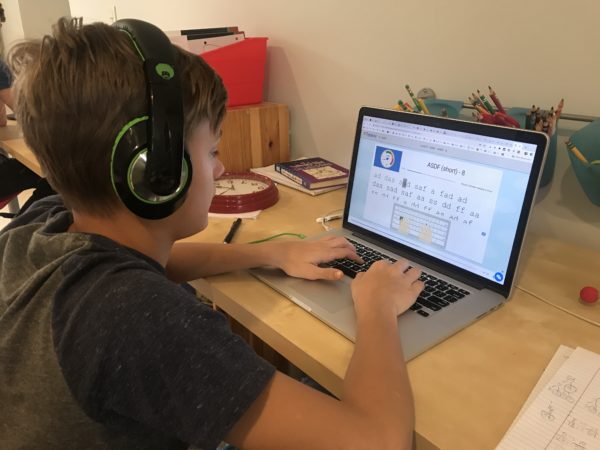 This week we also switched to a different typing program – Typesy. Kaleb and Zachary are working through the beginner program. This program offers some video tutorials as well, so I'm looking forward to seeing how the boys do with it (I'll be sharing a review!).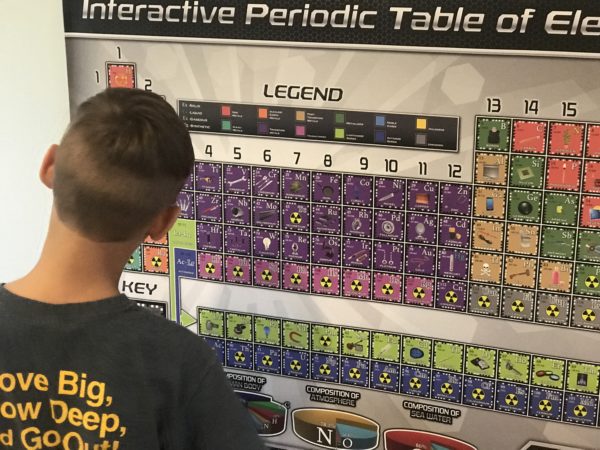 One thing I'm excited about – having our Periodic Table Wall Chart back up on the wall! Kaleb is working through Christian Kids Explore Chemistry this year and it's a great tool for him to get a LARGE visual of the table. We haven't used the interactive part of the poster yet, but he is going to love that!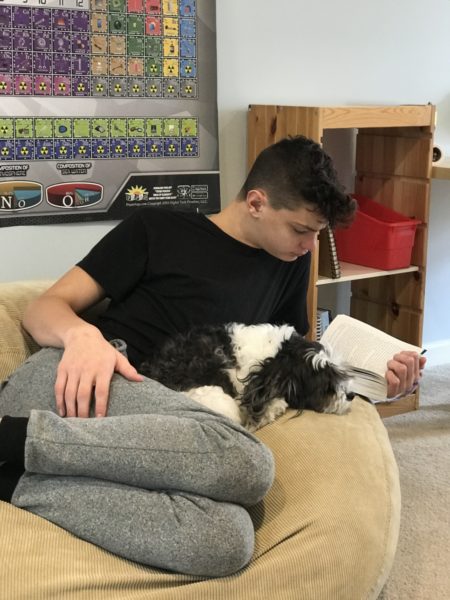 Addie has been thrilled that she can curl up with someone again (our bean bag is her favorite place to snuggle even if we aren't in it!). Zachary has read several of the books on his reading list for this year and honestly was getting a bit bogged down (i.e. reading wasn't fun), so we let him pick a book to read for himself (he chose the last Harry Potter book). We just picked up the boxed set, so he is curling up to read through that one before he can see the movie.
Our Senior Adventures…
Laurianna is wrapping up her fall semester at the community college. She has one more week of full classes and then finals, which she is ready to work on and take a break. Over Thanksgiving she started training to teach lifeguard classes, so her "break" wasn't much of a rest for her.
We did find out that she has already been accepted to the community college and are now working on her application to another college so she can work on classes in their BSN program while she works on her RN. She is still waiting to hear back from the nursing program on her acceptance there.
That's about it from this last week! I hope you all are doing well and had a great Thanksgiving. We'd love to hear about your homeschool time – feel free to leave a comment and let us know what you've been up to.