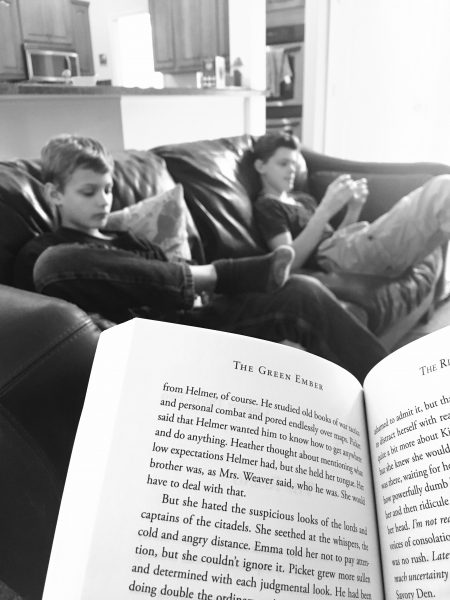 As I read The Green Ember (we are now 8 chapters from the end!), both boys twist and turn their Rubic's Cubes and lounge on the couch. Listening quietly and trying to figure out what is coming next.
The book wasn't their favorite when we started, but now as we draw near the end of the book they certainly don't mind the daily reading time and are really getting into the story – enough that we have already ordered the second book to read together.
Me – I'm nursing a cup of coffee and also listening to the crazy washer spinning in the background. Meanwhile the rest of the house is a wee bit of a disaster. Dishes are on the counter and books strewn all over the living room. Random pieces of laundry litter the floor and someone hasn't bothered to pick up their breakfast bowls from the table.
But we are reading together and it's a snapshot of what homeschooling is like: school woven in with our everyday life. The good, the messy, and well – LIFE.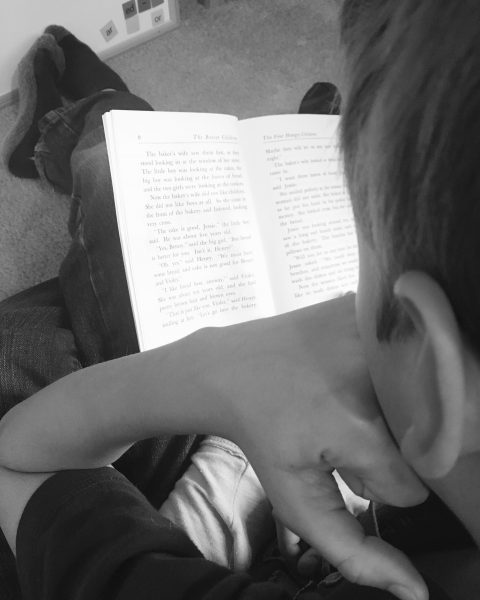 Later in the day, we have the last of the 'firsts' in our house and it's honestly a little bittersweet. Our youngest, the one who still has stuck in his head that he isn't a good reader, sits down and started reading The Boxcar Children out loud to me. The last child to read through this particular book for the first time – an honest-to-goodness chapter book where you can't really get reading clues from the pictures in the story.
And he does wonderfully.
He doesn't quite fit on my lap like he used to, but he snuggles in, lets me wrap my arms around him, and kiss him on the cheek as he reads down the page. Meanwhile the other kids are walking in and out of the room, working on math, or grinning as they recognize the accomplishment in their brother's hard work.
These are those moments in our homeschool time that I love – where life overflows into the nuances of our day. When we get a chance to relax together. Celebrate together. Learn together.
Living life together in all the little moments. ❤️