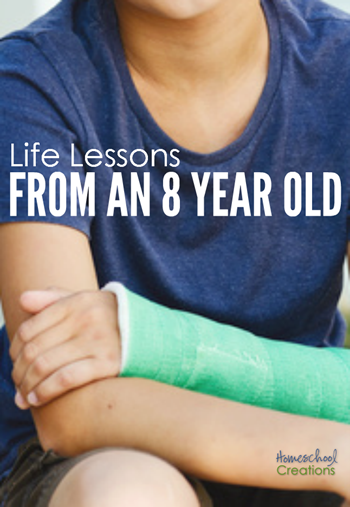 Our 8 year old has been running around the house with his left arm in a cast. This same boy was immediately concerned about how breaking his arm would affect his swimming. (Side note: I am NOT a parent that would push him to participate and say he has to swim – it was all boy wonder asking!).
His main concern immediately after breaking his arm:  Could he still swim, even if he had a cast on?
The doctor was able to set us up with a waterproof cast and made sure he could bend his elbow, and aside from a little initial discomfort that was relieved by filing his cast, he was good to go. Over the past two weeks he has been attending practices, working hard, but a little discouraged since he has been at the back of the line. Swimming with a cast apparently isn't easy. (Who knew?)
This past weekend we had another swim meet where he was given permission to compete – and the boy was THRILLED. Even more so when he placed first in all three of his events, taking time OFF his freestyle and getting his best time ever!!!
Yeah – there may have been some hollering over that one!!
And you know, it's been at the front of my mind all week. How often do we get easily discouraged in a situation and think we're stuck, can't change, can't do any better – and stop putting effort into something because the odds look like they are stacked against us?
I know I'm not alone in this one! Whether getting frustrated in an area of homeschooling, a part of parenting, pushing aside projects that are just too overwhelming because it isn't one of my 'strengths' – well, it can be all too common in life to stop pushing and just give up.
What would happen if we still, despite our circumstances, choose to look at a situation in a different light? Push through the hurt and the obstacles in an attempt to overcome? Do even better than we imagined? Sometimes putting out the effort is hard, but we have to take that first step in order to get moving in the right direction.
How much would things change?
Funny how a simple little cast can shed light and expose areas in my own heart that needed a little prodding. All thanks to the arm of an 8 year old.
Is there an area of your life that you feel like you've given up or are discouraged? Can I give you an little encouragement today – keep trying. Take that first step – and know that I'm cheering you along (and myself too!).