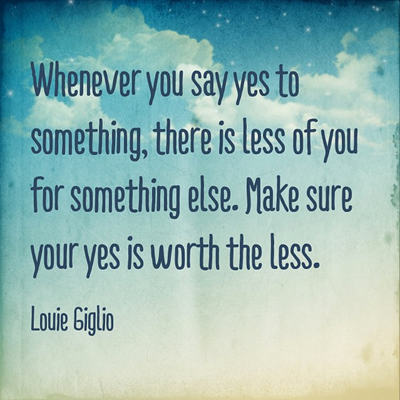 I'm a 'yes' girl. If someone asks me to help out with something – well, there's an inner part of me that always wants to scream out "YES! I'll do whatever you need!" Let me help. I'm your go-to girl. Sadly at times, that has been at the expense of my family.
Over the last several years though, my perspective has shifted some in this area. There are so many opportunities for me to be involved in or for our family to be a part of, but not necessarily every single one of those 'things' is what is best for our family or me at that time.
Sometimes too – my 'yes' may be to something that I need to personally put aside. Like watching the latest episode of my favorite tv show and spending time instead with a daughter who needs all of my attention at the moment. Or saying no to a fun outing with a friend because my hubby and I could use a little time together.
Last week I finished reading The Best Yes by Lysa Terkeurst and it was another reminder on wisely saying yes to the BEST that God has for us. This quote really summed it up well for me though,
"Whenever you say yes to something, there is less of you for something else. Make sure your yes is worth the less." ~ Louie Giglio
We really need to consider how we are spending our time – and if it is the best use of it. Saying no can be hard – but sometimes very much needed!