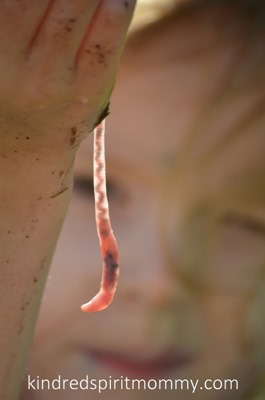 The above picture of the worm just fascinates me! And I'm pretty sure that Kindred Spirit Mommy enjoyed the lack of an actual dissection as well!
Making a book come alive is something that is dear to my heart (hence the many Literature-based Printables I've shared!). Growing Book by Book shares activities to extend the reading fun with the book Mama Cat Has Three Kittens, and several other ladies have linked up additional learning ideas as well.
Itty bitty ants are showing up in our house again (grrr…), so at the moment I may just want to squish them. This science experiment from Gift of Curiosity may have you attracting a few, but it's all in the name of science!
Need to work on learning your phone number? (well, maybe your kids do!) Check out this fun printable from Spell Outloud  to practice 7 to 10 digit phone numbers – and maybe 911. We won't talk about the different times that one of our boys has called 911 just to chat, ok?

Follow the PreK and Kindergarten Community Pinterest Board
Each week I am  pinning many of your links onto the Preschool and Kindergarten Community Pinterest Board. I'm a visual person, so having pictures to help me remember posts is super helpful. Be sure to jump over and follow the board – and find some fun ideas at the same time!
Were You Featured in the Preschool & Kindergarten Community?
If you were featured in one of the weekly posts, feel free to grab the button coding below and display it on your site!
Link Up with the Preschool and Kindergarten Community!
Share what you are doing with your kids! Please link your exact blog post to the Mr. Linky below and link back here too! Grab a button for your post and be sure to take a minute to visit the person who linked up before you.