We're winding down the school year here, so the girls (and Zachary some too) have been working hard to wrap-up the last of their school work. There may be a few things we'll still do in the summer, but otherwise, we're ready for some relaxing and a whole lot of fun!
Testing is now over (and all of God's people said 'amen') – so there's that. We celebrated that milestone by taking a day to do nothing. After eating gobs of ice cream for dinner the night before, that is.
In the last few weeks science has been at the top of the agenda along with geography for Laurianna, so I thought it might be fun to share a little of what we've been up to. Besides, I promised I would share more – and I haven't. So here it is…
Learning about Circuits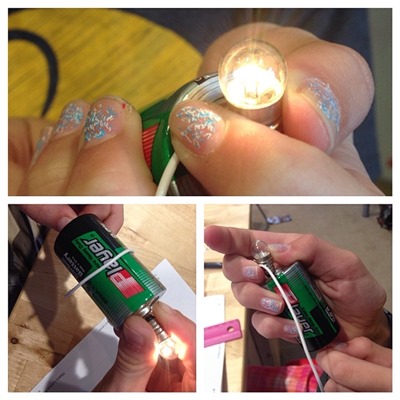 McKenna and Zachary have been learning about open and closed circuits (using Nancy Larson Science 4). When the hands-on stuff was pulled out, the fun really began.
We started out testing out the difference between an open and a closed circuit and how it would work with a battery – i.e. where does the wire need to touch on the battery and the light bulb in order to complete the circuit. The initial experiment only used one battery (a D size), and a few days later the two kids were hilarious when they realized that TWO batteries made the light bulb glow brighter. (It's the little things, eh?).
In addition to making a light bulb glow, they've been trying small fans and motors – and now Zachary has a hankering to test a bunch of different things. And so begins the learning process. I love that something simple can spark a desire for more.
pH Levels and Moldy Bread
Laurianna has been working through the second year of her Rainbow Science (a two year program for 7th and 8th grade). While she had some fun experiments last year, the ones the last few weeks have been much more exciting for her.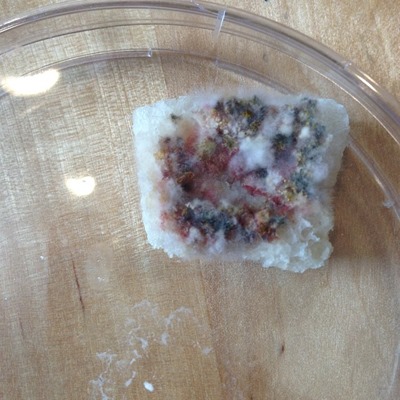 Pretty, isn't it? I may actually be able to save her some time and pull something from the back of the fridge for another experiment, but I suppose that wouldn't be as fun for her.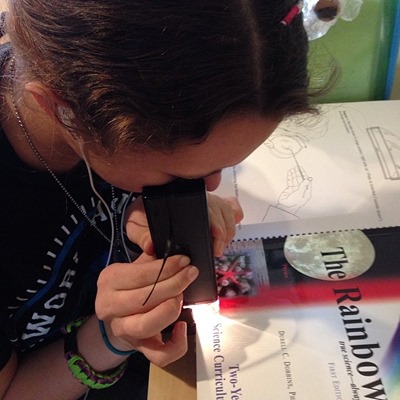 There have been other petri dishes hidden high on shelves so that little organisms can be observed (this one may have involved some squealing about how cool it was).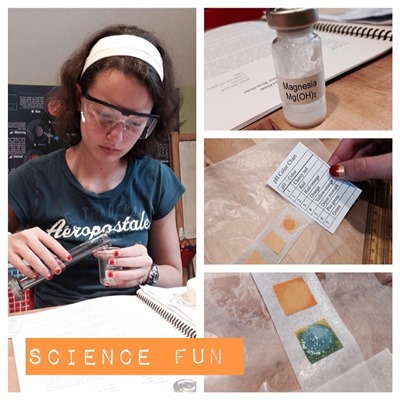 And testing of pH levels – another huge hit.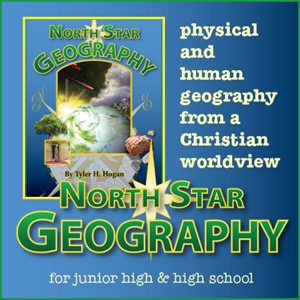 Laurianna has also been working on a new homeschool geography program from Bright Ideas Press – North Star Geography. We've had the opportunity to preview it  a bit before it's release in July, and are enjoying it especially since it will count as a high school credit (woot!).
The other day she came up to me telling me how much she loved it and was learning from it. Incidentally, she also thinks that she should now learn Mandarin Chinese – not Spanish – since it is the most spoken language in the world. (We're sticking with Spanish).
If you'd like to be kept updated on the full release of North Star Geography and receive a discount code, you can sign up for more info here.
Share What You've Been Up To…
One of the BEST things for me these last few months has been having friends that are coming along beside during the middle school and high school years – they can seem overwhelming! Seeing and sharing with what others are doing can be a big encouragement – so be sure to visit the Finishing Strong link up (below) to see what other families are doing.
But first – What have you been up to with your older kids?