A few years ago we met a fun family while camping. They were homeschoolers and our kids just 'clicked' together. One of their daughters is even named McKenna – it's obvious we were meant to be friends!
The mother and I often chat together about natural remedies to use with our families and she shared a homemade cough syrup recipe with me that our family has used, loved, and found so helpful. Our kids can be picky on how things taste, but this is one syrup that they definitely don't mind taking.
Since coughs come along any time of year, perhaps this recipe will be helpful to you too!
Homemade Cough Syrup Recipe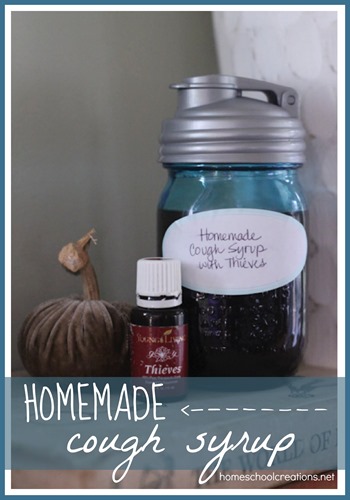 Ingredients
Directions for making
Open capsules and combine all ingredients in a small pan.
Heat on the stove top and bring to a quick boil, stirring frequently.
Cool and store in a glass jar, especially if adding essential oils.
Lightly warm syrup before serving and dispense as needed.
Make approximately 1 pint of homemade cough syrup. We store ours in a pint-sized mason jar and use the ReCap lids to pour the syrup easily.
Coconut oil gives the syrup a nice flavor, but when the weather is cooler, part of the syrup will solidify. We warm it under hot water and stir to mix or you can pop it in the microwave if you prefer to soften.
A typical 'serving' is 1 to 2 teaspoons, depending on the child. This homemade cough syrup is always well-received.
Hope this remedy is as helpful to your family as it has been to ours! Do you have a favorite natural remedy to share?
This information on this website is based upon my research and personal use. Additionally, remember that I am not a doctor and any health statements must be verified by your doctor. Any statements made are my own opinion and from our family's personal experience. Your experiences may differ.