Do you have a sensory child at home that chews on things all the time? For children with sensory issues, chewing can be one area that helps them process what is going on around them. For one of our children, chewing has become enough of an issue (clothes, pencils, LEGOs), that we were looking for something safe he could have available to chew on. For us, Chewigem was a much needed help.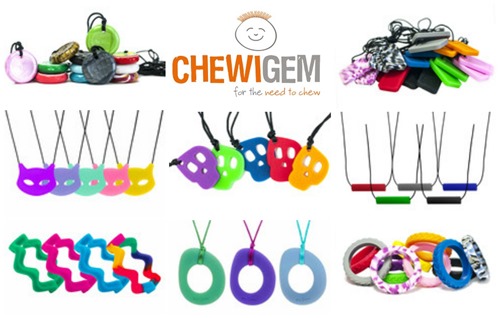 Chewigem USA is a family run business that creates oral sensory jewelry for children – both boys and girls. Their products are designed to look more like fun jewelry, so they are more discreet.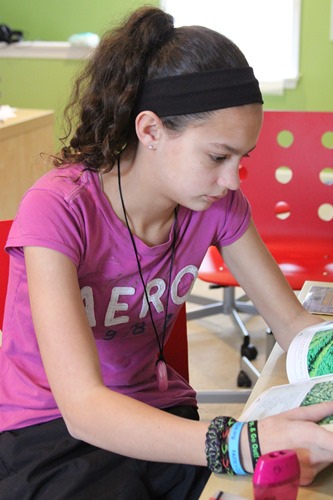 Products range from pendants (both discs and raindrops), dog tags, bracelets, and bangles and come in a huge variety of colors. The pieces are made from a non-toxic silicone, so they are completely safe for your kids to chew on. The clasps on the jewelry are all 'breakaway,' making them even safer for your family. Their pendants and bracelets can also be put in the dishwasher for cleaning (just not the cords) or washed in soapy water.
Our kids received several of the Chewigem pendants and dogtags based on what they typically chew on and how active they chew. For two of our kids (the ones that needed it the most), their necklaces have been such a help. Rather than putting a sweatshirt cord, pencil/pen, or LEGO in their mouth, the Chewigem pendants offered them a great alternative. Because of the colors and styles, they didn't mind wearing them around the house or in public at times either (we tried to keep them at home, because I didn't want to lose them!).
The Chewigem dogtags were my personal favorite – not too heavy, but perfect for Kaleb, our kiddo with more sensory issues. In a typical school day I am constantly trying to redirect his chewing (usually LEGOs or his sleeves), and it has become a big issue in our school day. There have been holes in clothing and a near choking once (that wasn't a good day). In the past he has needed constant redirection and then just a few seconds later is back to chewing or mouthing something.
Now Kaleb hangs his dog tags by his desk and puts them on almost every morning when we start school,  especially when he feels the need to chew on something. Chewigem pendants are one thing that I don't worry about him choking on and don't mind him chewing!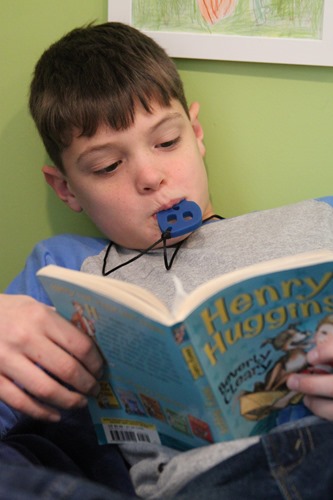 Our other two use them from time to time, and I would much rather have them fidgeting with their Chewigem pendant than a pencil or other item. Zachary wears his while reading – helping so much keeping him on track and focused, as well as keeping the fidgeting down (win, win for me!).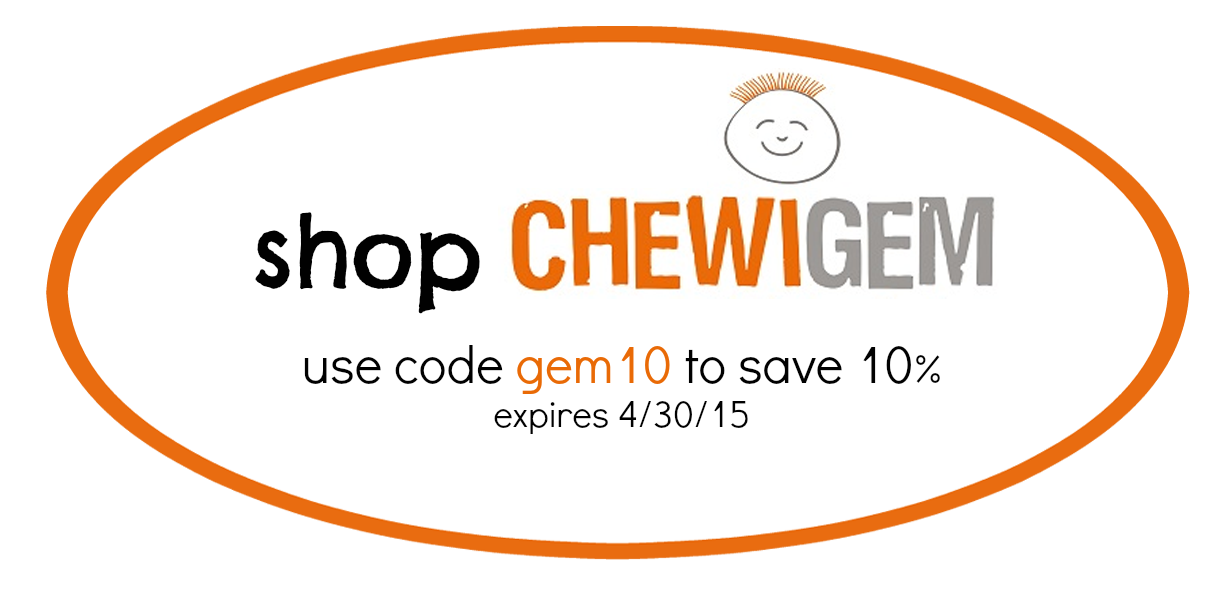 Chewigem USA is a company that I definitely recommend you check out if your family has a child that chews. We have been very pleased with the products we received, and their prices range from $14.95 to $19.95 (definitely worth saving a shirt and a few pencils!). Customer service is very helpful as well and will help you find the right pendant for your child if you need any help. Be sure to visit their  FAQ page for more information. Use code gem10 and save 10 through 4-30-15.
Win a Pendant of Your Choice from Chewigem
Chewigem is giving one reader a pendant! To enter, just follow the directions in the widget below. Giveaway is open to US residents through Tuesday, January 27, 2015 at midnight.
Note: Chewigem USA is a sponsor of this site and I received sample product for review purposes. This review is my honest opinion and all thoughts are our own.