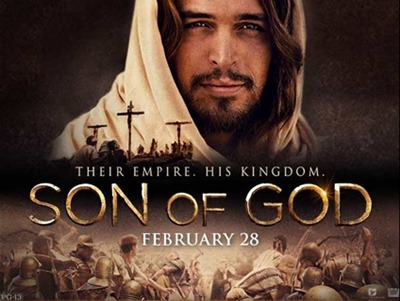 Have you heard about the new Son of God movie that opens across the country this Friday, February 28th in theatres? If your family watched "The Bible" TV mini series on the History Channel earlier this year, you will not want to miss this movie. While we don't have cable (thanks to living in the country) and missed the series, this is one film that my husband and I are excited to see together this weekend.
Here's a peek at the trailer:
 

From the award-winning producers of the record-breaking miniseries The Bible, Roma Downey and Mark Burnett, comes Son of God , the larger-than-life story of The New Testament, to be released by 20th Century Fox on February 28, 2014. Son of God is a major motion picture that brings the life of Jesus Christ to the big screen like never before.

Told with the scope and scale of an action epic, the film features powerful performances, exotic locales, dazzling visual effects and a rich orchestral score from Oscar®- winner Hans Zimmer. Award-winning actor Diogo Morgado portrays Jesus as the film spans from his humble birth through his teachings, crucifixion and ultimate resurrection.

The movie is action-packed with special effects, powerful acting, and beautiful cinematography. It marks the first major motion picture about Jesus' life since Passion of the Christ, released ten years ago. 

Rated PG-13
Partnering with Compassion
Compassion International has partnered with Mark Burnett and Roma Downey, the creators of the Son of God movie, to share the ministry of Compassion at the end of the film and invite viewers to sponsor a child. Many of you may know that Compassion is a ministry that is very dear to our family (and one that I would encourage you to learn more about as well!), and it excites me to see this partnership!
Additional Resource for the Son of God Movie
Here are a few additional resources that go along with the Son of God movie that you may find helpful:
Full Giveaway Details
Would you like to see the Son of God movie in theaters for FREE? To celebrate the opening of this inspiring new movie on February 28, we're giving away TEN movie tickets. Five winners will each receive two tickets – so grab a friend or family member to take with you!
Winners will be selected through the Rafflecopter widget at random. Each of the five winners will be sent a certificate/code to use for admission up to $13.50 of the purchase of one admission to see Son of God at participating theaters. Deadline to enter is midnight (Eastern) February 27.
Disclosure: Compassion is offering two tickets each to four randomly selected winners. A promotion company for Son of God is also offering two tickets to one randomly selected winner.  The winners will be announced on Friday, February 28th. Please see my full disclosure policy for more information.