Some of you may think that I just made a rude sound. The kids are certainly getting a few giggles out of it. My question is, how have we not heard of the game Farkle before?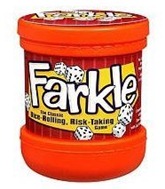 Have you heard of it??
When camping this past weekend, another family pulled out their Farkle game and our kids magically disappeared. Occasionally we would hear groans and shouts of "Farkle!" coming from their direction, but they had so.much.fun.
The next day we had to run to the store and do you know what the first thing was we put into our shopping cart? Two containers of Farkle. One for the house and one to add to our camping stash.
Six simple dice. One cup to shake them all up and spill them out. Hours of fun adding points, figuring out game strategy, and one momma who isn't going to point out the fact that they are all getting in a little math practice in between the shouts of "Farkle!"
Don't tell them, ok?
What are your family's favorite games that are simple and fun to take along with you? Any fun ones to share with us?