Several years ago we started using Read! Build! Write! Vocabulary mats as a part of our homeschool time. They have been a fun way to incorporate letter identification and handwriting during our learning time.
With football season in swing, here is a page of vocabulary cards to use with your little football enthusiasts.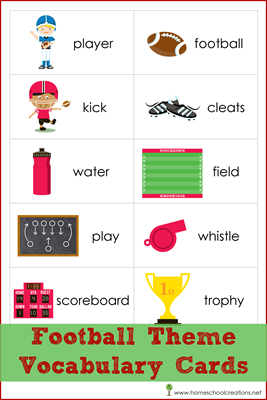 Downloads are in green columns here on the Read! Build! Write! page
How to Use the Read! Build! Write! Vocabulary Mats
Not familiar with the Read! Build! Write! mats? Basically, they are a fun way to work with your child on letter and word identification, handwriting, and spelling.  Here's how to use the mats: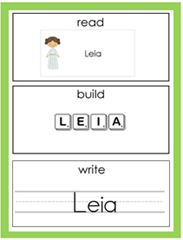 Read: Place one of the vocabulary cards in the top box and read the word together.
Build: Use letter tiles or magnets to build the word in the second box.
Write: Finally, practice writing the word in the bottom box. Print the mats onto cardstock and then laminate them so that you can use Vis-à-vis markers or dry erase markers on the mats.
Check out the Read! Build! Write! page to find additional themed vocabulary cards to go along with all of the Early Learning Printable Packs that I've put together so far. All downloads are in the green columns on the Read! Build! Write! page.
If there are other themed vocabulary cards that you would like to see me put together, leave a comment and let me know!