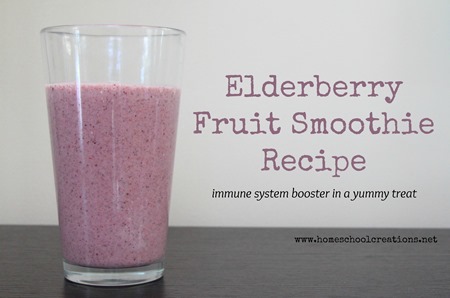 Fruit smoothies are a something that our kids drink daily. More recently we've started adding something yummy to the mix – and for a little more health benefit too. After sharing a picture on Instagram the other day, several of you emailed for the recipe, so I thought it would be great to share. They are really simple, quick, HEALTHY, and our kids love them!
Elderberry Fruit Smoothie Ingredients
Makes 4 – 1 cup servings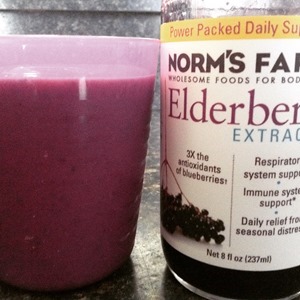 1 1/2 cups of kefir or plain yogurt (we use kefir for the probiotics)
1 cup frozen strawberries (we love the Kirkland brand)
2-4 teaspoons Elderberry Extract from Norm's Farms
1-2 ripe bananas (depends on their size, but they help naturally sweeten)
2 Tbsp. flax seed (optional)
1/4 honey or sweetener to taste
may also add 1/4 cup blueberries or additional fruit
Blend all ingredients in blender. We have had a Vitamix for 5+ years and love it! Definitely no problem breaking up those frozen strawberries. Once it's blended, simply serve and enjoy! The kids have all enjoyed the addition of the elderberry extract, and I'm happy to add it to give that extra immunity boost!

Norm's Farms sent us a bottle of Elderberry Extract to try and we love the taste! Smoothies are one way we found to add the benefits of elderberries to our day. Elderberries are naturally high in antioxidants and a 'superfruit' packed with Vitamins A, B, C, iron, and potassium (learn more about antioxidants here), and they are great for helping with immune support. Winter months can be tough on a family with multiple kids and this is one way we are combatting things in our house!
The Elderberry Extract from Norm's Fars is made from elderberries native to North America and has simple ingredients. No added ingredients, keeping it simple and healthy!
We've also been using their Elderberry Wellness Syrup which is naturally flavored with honey, cinnamon, cloves, and a little bit of sugar. It is fabulous to take by the spoonful as a daily supplement, and would be a great cough syrup as well – soothing and something the kids wouldn't mind taking!
Find Norm's Farms Elderberry Products Near You

There are several stores that carry Norm's Farms elderberry products, but you can also order from their website online or via Amazon (and yay – they are a part of Prime!!). Click here for elderberry extract, elderberry syrup, and elderberry jam).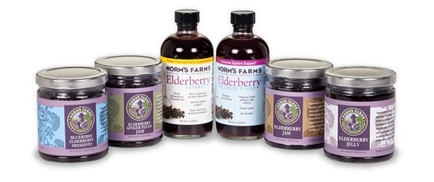 In addition to their extract and wellness syrup, they also offer a jam which we haven't tried! Be sure to check out their recipe section as well! We have really enjoyed the two elderberry products we received and will definitely be ordering from them in the future!
Norm's Farms is a sponsor of this site and we received sample product for our personal use. All opinions expressed in this post are our honest view of the product.