Playing games is one of my favorite family memories from growing up. Somehow though, I managed to marry a man who is not as excited about games. This year, I am hoping to spend a few afternoons (or evenings) a week enjoying some game time with the kids and finding games that we can all enjoy together (or without my hubby – grins).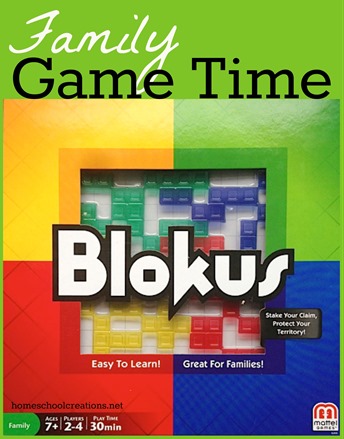 This past month, we've been playing Blokus – a game that is new to us. If you haven't heard of it, here's a quick little recap.
How to Play Blokus: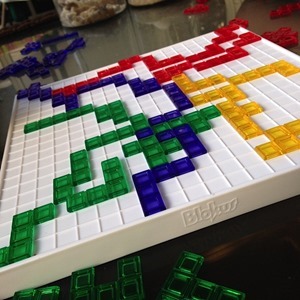 There are four different colors in Blokus, and each player has 21 different shaped pieces. Players take turns placing pieces on the board, one at a time. Pieces of like color can only touch on the corners of like-colored pieces. During the game, players try to get as many of their pieces on the board, while using strategy to block their opponents from spreading across the board.
Skills Blokus Works On: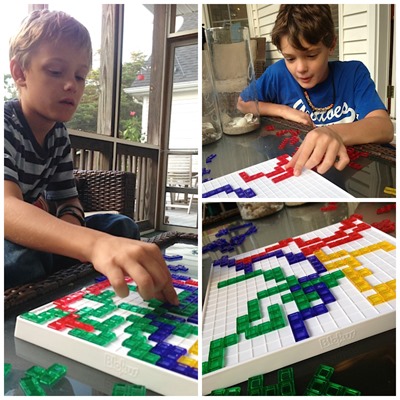 There are a few things that Blokus has been great in working on with the kids (and me too!)
Thinking strategically – while you want to get your pieces on the board, you definitely have to plan and think ahead to keep areas open for your own pieces and to block your opponents.

Spatial thinking – kids have to picture how pieces are going to fit together on the board, either as they work around opponents pieces or in building their own pieces. Each piece is shaped differently, making it a fun challenge.
Recommended Ages:
Blokus is recommended for ages 7 and up, but those closer to the 7 year old age may need a little assistance. Overall the rules are simple, so kids catch on quickly!
We haven't kept a running score of our Blokus games, but usually play on a game-by-game basis. All of our kids (ages 7 to 13) have enjoyed playing this together and the 7 year old has been getting fairly competitive lately! It's been great seeing them each develop their own strategy to make the game work for them!
This game may be new to you (as it was to us), but I love hearing about different games, especially when there is an added learning twist in the game.
Have you ever played Blokus before?
Do you have a game recommendation for our family to try next?