These printables were created to use when studying birds with your child. Last year I put together a set of preschool bird printables along with Carisa from 1+1+1=1 and when we began our bird unit this spring, I put together some kindergarten bird printables to use as well.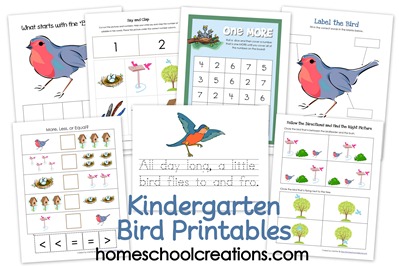 These
Kindergarten Bird Printables
include additional fun activities such as labeling a bird, less/more, syllable counting, roll one more and one less, following directions and more.  On the download page, you will also find links to download two additional printable packs focused toward preschool ages, so don't miss those!
Download the Kindergarten Bird printables pack!!
Books to Go-along
Don't Miss These Printables Either!