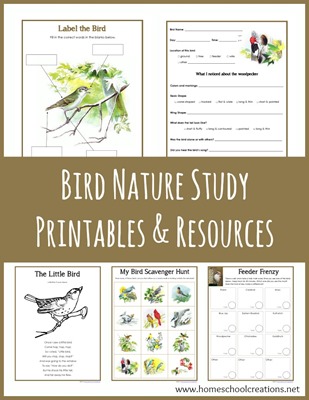 With spring in full swing in our area, the birds are headed to our feeder and making their presence known! It has been so exciting to see a few new varieties of birds as well, including a woodpecker, some wrens, and even goldfinches. This week we're wrapping up our homeschool science programs and heading outdoors for some hands-on and up-close learning about birds. I am so excited about it and of course had to make some printables to go along with our learning. (And I may have a wee bit of a crush on the clip art too!)
The Bird Nature Study Printables set contains:

Nature walk counting sheet – mark a tally every time you see one of the birds on the sheet
Feeder frenzy counting – mark a tally when you see a bird at your feede
Bird scavenger hunt – for younger children, take this scavenger hunt sheet on a nature walk or when watching the feeder
Bird observation sheet – record data and information on a variety of birds. There is a blank one at the end for other species, but sheets are included for 12 varieties: robin, cardinal, goldfinch, wren, pigeon, oriole, hummingbird, woodpecker, nuthatch, blue jay, Eastern blue bird, and mockingbird
Label the parts of a bird
Story writing prompt – write a short story using four of the words provided
Poem and coloring page based on a Mother Goose rhyme

Additional Learning Ideas and Inspiration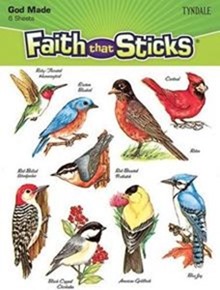 A few weeks ago a box of stickers from Tyndale's Faith That Sticks sticker line showed up on our doorstep. One of my favorites was the God's Beautiful Birds sticker pack. The stickers feature nine different birds that are focused on in this nature study pack (along with a few others) and were a fun addition to our nature study.
We'll be doing a few of the things below this week with our stickers. There are six sticker sheets in the set, so plenty to use for a few of the following ideas including:
· Using two sheets to create a matching game. Simply cut 18 3×3 squares of cardstock and put a sticker on each piece. Then have fun matching them up.
· Use the stickers as a guide and have your child sketch their own image of the bird. These stickers have some great colors that are eye-catching!
· Write a story using the stickers. Have your child write their own story picking 2 or 3 of the stickers or have them dictate one to you.
· Make some fun spring cards using the beautiful birds and let your child create a 'scene' to put the birds into!
· For older children, put each of the 9 stickers onto a 3×3 cardstock square and let them practice alphabetizing the birds.
· Make popsicle stick puppets with each of the bird stickers.
· Create a simple windsock and use the stickers to decorate. The stickers are light enough that they won't add extra weight to the windsock.
· Make a fun bracelet with a few of the stickers and wear it on a nature walk. See what birds you find as you walk along!
Learning About Birds: Other Resources
Don't miss these additional printables and helps for your bird nature study!
Our Favorite Books about Birds
What birds do you see frequently in your area?

Are there any that you get excited to see?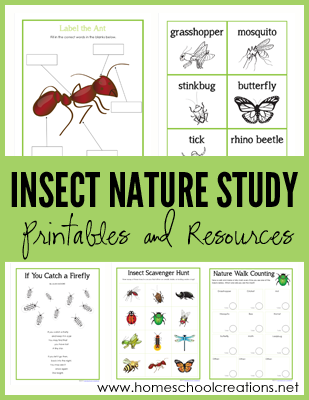 If you like these printables, be sure to download our Insect Nature Study Printables as well!