Maybe you've noticed that the stores around are packed with "Back to School" supplies. Sales are on and there are so many fun things available to fill our carts with.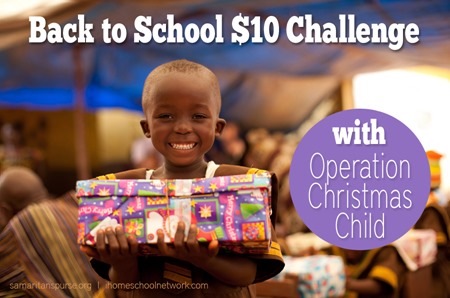 This year when you check out the stores and sales, join the $10 Back to School Challenge with the Samaritan's Purse Bloggers. While you are out picking up supplies for your family, think ahead and shop for Operation Christmas Child shoeboxes. If you time it just right, you can snag some great deals and fill those boxes to overflowing!
Interested in joining in with the $10 Back to School Challenge during the month of August? Here are the specifics:
Commit to putting $10 toward an Operation Christmas Child shoebox

See how far you can s-t-r-e-t-c-h that $10!

Shop, save, and store your shoebox items

Take pictures of your goodies and link up with the Samaritan's Purse Bloggers on August 28th and share with others all the fun stuff you found!
You can check back here on Wednesday, August 28th and link up with all of us. Our family will be headed out shopping too and we'll share our finds! If you'd like some shoebox ideas other than school supplies, two of my online friends have put together a list of 100 Shoebox Ideas for Girls and Boys. Click on the images below to visit their posts and find ideas for items to include in your boxes.
Don't forget some of the following areas: personal hygiene, school supplies, fun toys, building or work tools, yummy treats, clothing, and other special items to treasure. The kids will love anything you include in the boxes. Every little gift matters!
Here are a few helpful links about Operation Christmas Child:
Disclosure: I am a member of the iHomeschool Network's Samaritan's Purse Blogger Team and voluntarily writing about this ministry. All posts are my own thoughts and do not necessarily reflect the views of Samaritan's Purse. I am not an employee, agent, or contractor of Samaritan's Purse.