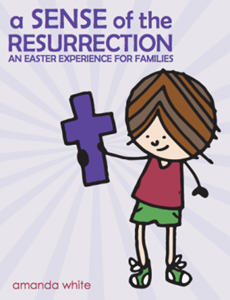 If you are looking for hands-on activities that will help your family internalize all of the events in the story of Jesus' death and resurrection, you'll want to grab a copy of A Sense of the Resurrection from Oh Amanda.
A Sense of the Resurrection has 12 simple activities that you can do with your children in the weeks leading up to Easter. The activities are hands-on and focused on using the five senses to grasp and understand events like the Last Supper, Jesus' anointing, the empty tomb and more. It includes printables, Scriptures, and conversation starting points for kids of ALL ages.
Find out more and view a sample of ebook A Sense of the Resurrection here!
Amanda is the creator of Truth in the Tinsel (another fabulous resource for families) and this ebook is another tool that you can put in your teaching toolbelt – and one that will have a lasting impact on your kids!