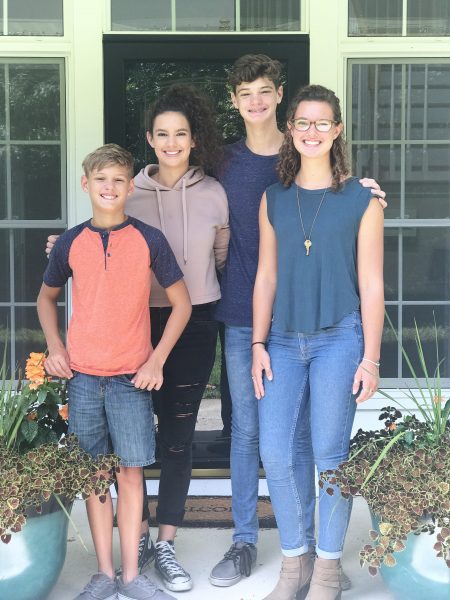 It only took us two weeks, but we finally grabbed a "back to school 2018" picture last Friday when everyone was finally home. No editing (because my house looks yellow, it's white), only two children had to be told to go put on something else because NO THAT IS NOT OK TO WEAR, and one child is completely faking her height by wearing boots with 2-3 inch heels so she can beat out her sister.
But they are all smiling, so all is well – 6th grade (Kaleb), 8th grade (Zachary), 10th grade (McKenna), and 12th grade (Laurianna), and now I can check that off my list (even if it's two weeks late. Don't judge.).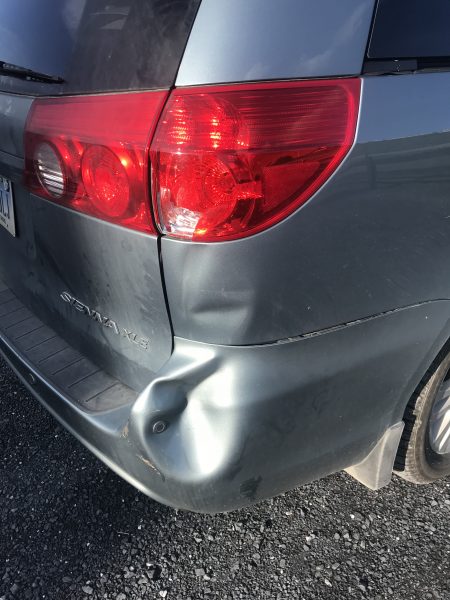 Not too long after though, I managed to back out of our garage and into our other vehicle when we were on our way to McKenna's play practice. Not a shining moment. On the other hand, the boys will have fun helping me change out the light casing for the tail light and get that fixed.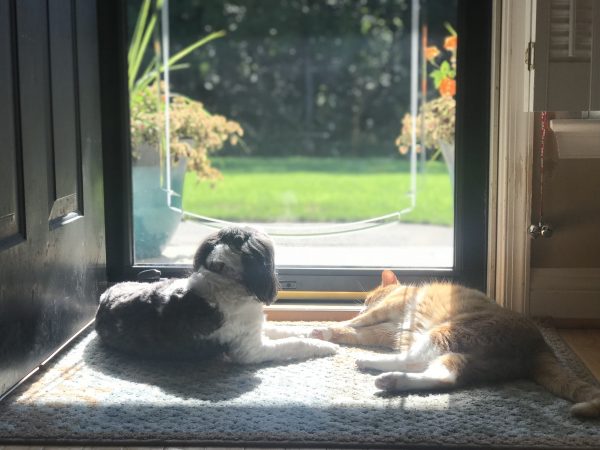 Let's have a sweet puppy and kitty moment, shall we?
As for this week, you know that saying about the best laid plans? Yes, well, apparently they have met our internet provider.
We've gotten spoiled the last few months having internet that has a speed of over 1.3MB – we're much closer to 100MB now after many years of begging and pleading.
Unfortunately, that does little good when there is a service outage and then a small router goes berserk and the internet is down for two days. Especially when your husband's phone is apparently in the middle of an update, freezes, and then he spends the next two days trying to access all the stuff.
I know it's a first world problem, but it's crazy how dependent we've gotten on our devices, isn't it? And with so many programs relying on computer access these days, it can put a little kink in plans when they can't be accessed.
Instead we relied on my phone's hotspot and made the best of things (grumble, grumble) until things were fixed on Thursday for us.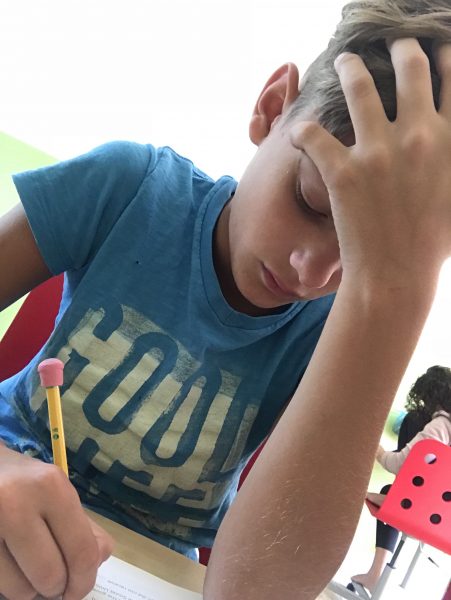 There was lots of reading aloud, independent reading, sticking with our everyday subjects, and then adding in some fun chemistry experiments at the end of the week for McKenna.
Kaleb finished up the first unit in his AOP Lifepac History and Geography set – woot!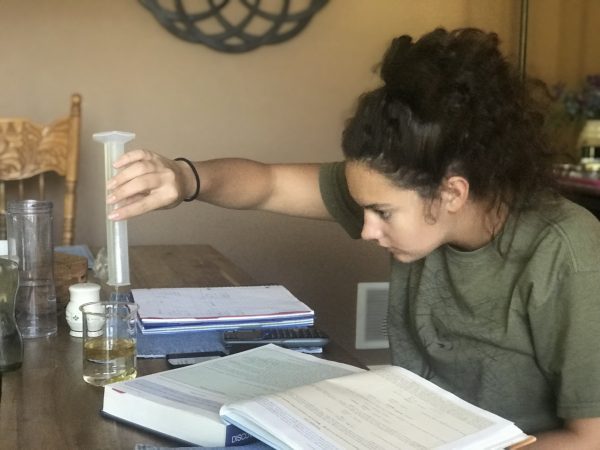 I mentioned on FB and Instagram that we are using a different chemistry program this year for McKenna and on top of that, we don't have the same group setting (i.e. I actually have to teach this time around).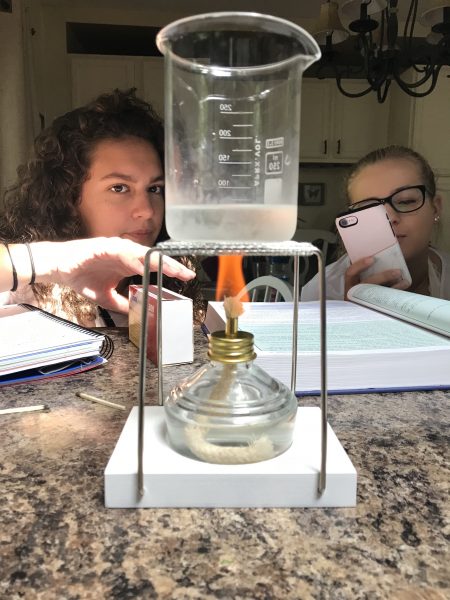 To say I'm a bit nervous is an understatement. I love the math aspect of chemistry and the fun hands-on, but I'd be lying if I said I don't get frustrated at times with McKenna because we are both really strong personalities – which can cause going toe-to-toe at times.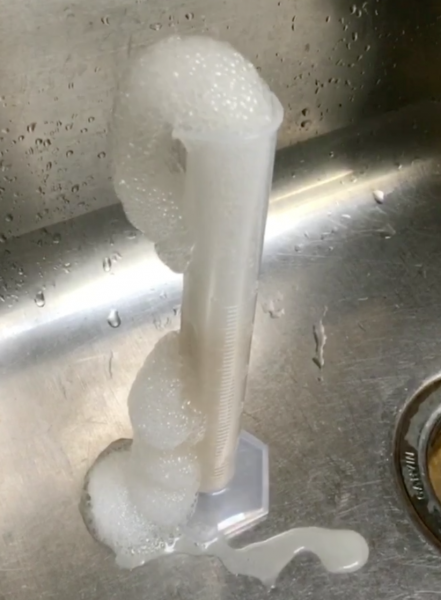 So far though I am really liking the layout of this program and we had a blast working on the experiments this week together (we're doing them with a friend too).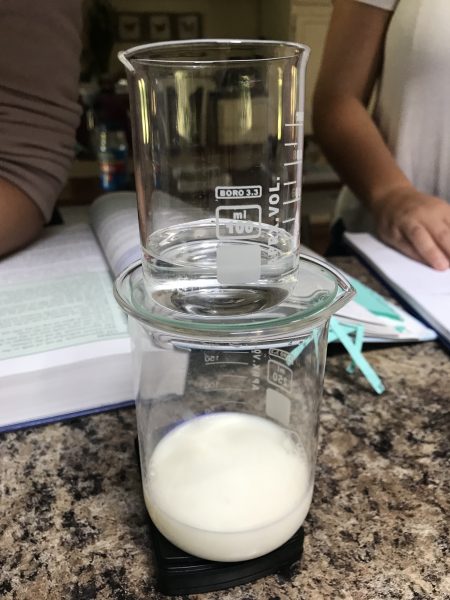 This week we worked on three different experiments – separating a mixture of salt and parsley, learning about the conservation of mass, and also the law of definite proportions. We're meeting every two weeks to review the previous chapter and prep for the test and then work ahead on the experiments for the upcoming lessons. That way the girls know what is supposed to happen and understand the experiment/concept when we get to that portion of the chapter.
Well, other than all the experiments, the literal fender-bender, and our two week late back-to-school photo – that's our week in a nutshell.
Hope you all are having an amazing week – talk to you soon!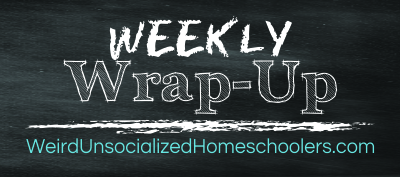 Be sure to stop by WeirdUnsocializedHomeschoolers.com and hang out with some other moms who are sharing their day-to-day happenings.