TONIGHT (Tuesday, October 24th), the flash sale for the Ultimate Homemaking Bundle ends. But before you forget, I wanted to share six things that I'm loving from the bundle.


These six items make this bundle MORE than worth it for me. Purchased separately the six are worth over $200, but are all in this $29.97 bundle! Here's a quick look at what I'm excited about:
The Temper Toolkit by Lisa Jo Baker ($29) – The Temper Toolkit is a collection of practical strategies, honest stories, and Biblical resources from one mom to another to help you take control of your temper BEFORE you lose it. I wrote a much more in depth post about this course (you can read it HERE) and highly recommend it!
Steady Days by Jamie Martin ($8.99) – teaches you how to apply the same techniques of efficiency, intention, and purpose that you've used in other careers to your most important position in life–motherhood.
The Cozy Minimalist ecourse ($39) – decorate your home with confidence, starting today, using just the right amount of stuff without wasting your hard earned money.
Delight in the Word of God ($8.99) -tool to help you connect with Jesus and hide God's Word in your heart in a relaxing and fun way.
Adventures in Bible Journaling ($18.97) – designed with beginners in mind giving detailed descriptions of any supply you could possibly want and also helps you learn how to use each of those supplies in your own journaling.
A Mom's Guide to Better Photos ($99) – teaches beginning photography to moms with any type of camera – smartphone, point & shoot, or DSLR on automatic – without using manual mode. Laurianna is going to use this course!
In addition to the multitude of ebooks and ecourses in the bundle, there are FREE bonus offers from amazing companies! Our family has already taken advantage of several of these, including Strawesome, HomeBinder, and HopeInk. Some are 100% free; other are yours for the cost of shipping only.
There is a catch though – the Ultimate Homemaking Bundle (aff link) re-release will only be available from 12:00 a.m. EST on Monday, October 23rd until 11:59 p.m. EST on Tuesday, October 24th. JUST TWO DAYS!!

A Bonus for You!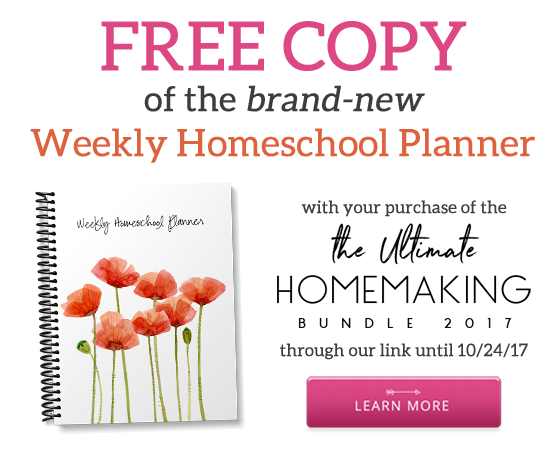 As an added bonus, if you purchase your bundle through Homeschool Creations, you'll get a FREE copy of my Student Planner OR the new Weekly Homeschool Planner. Purchase through THIS LINK and then email me a copy of your receipt – and I will send you your freebie!
Your Purchase is 100% Guaranteed
You can buy the Ultimate Homemaking Bundle (aff link) with confidence because your purchase is covered by the Ultimate Bundles one-year guarantee: you have a full year to enjoy all the books and courses in the bundle, and if you don't feel like it's made a huge difference to your family, you'll get your money back in full!
Read the fine print about this bundle and read the answers to frequently asked questions about the bundle. Don't forget – this bundle is only available until 11:59 p.m. EST on Tuesday, October 24, 2017.
Disclosure: As a contributing author (since my printables Yearly Planner is included in the bundle), our family benefits from each purchase that goes through Homeschool Creations. We value your support – thank you! We pray this bundle and bonuses are a blessing to your family as they are to ours!