As I'm getting settled into the new website, I wanted to give you a quick update. My feed subscriptions have now been switched over to Feedblitz. As an added "thank you" for those of you who let me visit your inbox everyday, each month I will be giving a $25 gift certificate to Amazon to one of my email RSS readers.
To be entered, all you have to do is look for this image in my sidebar and enter your email address in the space provided, click enter, and verify you want to receive the updates. That's it!

This week I may be a bit more scarce on the blog front because I am gearing up for a blog series to share with you all ~ 10 Days of Teaching God's Word. There are some other FABULOUS series in the works from about thirty other ladies, so stay tuned!! Posts start next Monday the 16th and will run on weekdays for two weeks.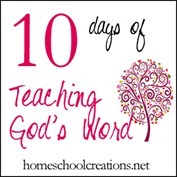 Can't wait to share with you all!
Don't Miss Out!! Email subscribers of Homeschool Creations are entered to win a $25 gift certificate to Amazon each month. Subscribe by email now!
Visit these great companies!