Every now and then something in my craves spending time with other women. Whether it's over a cup of coffee, laughing together at a movie, or just sitting and chatting together, there is something about having a little slice of time away that helps refresh my heart and spirit. If chocolate is involved – well, that makes it even better!
Last night a group of girls and I were talking about this very thing – how much it meant to us to have the two hours we spend together every other week. We share concerns, laughter, advice, and pray together during a Bible study time, but it is oh-so-needed. Those few hours away from the demands of being a mom mean the world.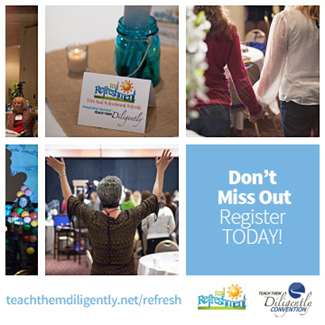 A few years ago, I had the pleasure of attending a Real Refreshment Retreat with Rachel Carman, so I was very excited to see that Teach Them Diligently is teaming up with her to offer all moms attending a fun night of games, fellowship, relaxation ond more!
At each of the Teach Them Diligently events this year, MOMS ONLY have the opportunity to get together on Friday night from 8pm – 10pm. There is no additional cost for this – it is included in the price of your registration to Teach Them Diligently (registration is currently $60 for the entire family)!!
As a homeschool mom, you will have the opportunity to connect with other moms, hear many of the leaders and speakers from the convention, and just enjoy a few hours away. The evening is a 'Moms-only' event, so if your hubby is with you at the convention, he'll have the chance for some 1:1 time with the kids!
Personally I'm looking forward to attending a few of these events this year. I'll be speaking in Nashville, Atlanta, Sandusky (and hopefully Dallas too). Register now and get ready for an evening of refreshment.
Rachael knows women spend their days pouring into the lives of others, which often leaves them parched and in need of spiritual and practical refreshment. Being a homeschooling mother of seven children, she understands the unique needs a homeschool mom faces. These Evenings of Real Refreshment will be a wonderful place for homeschool moms to join with other women as they seek to educate their children to the glory of God.